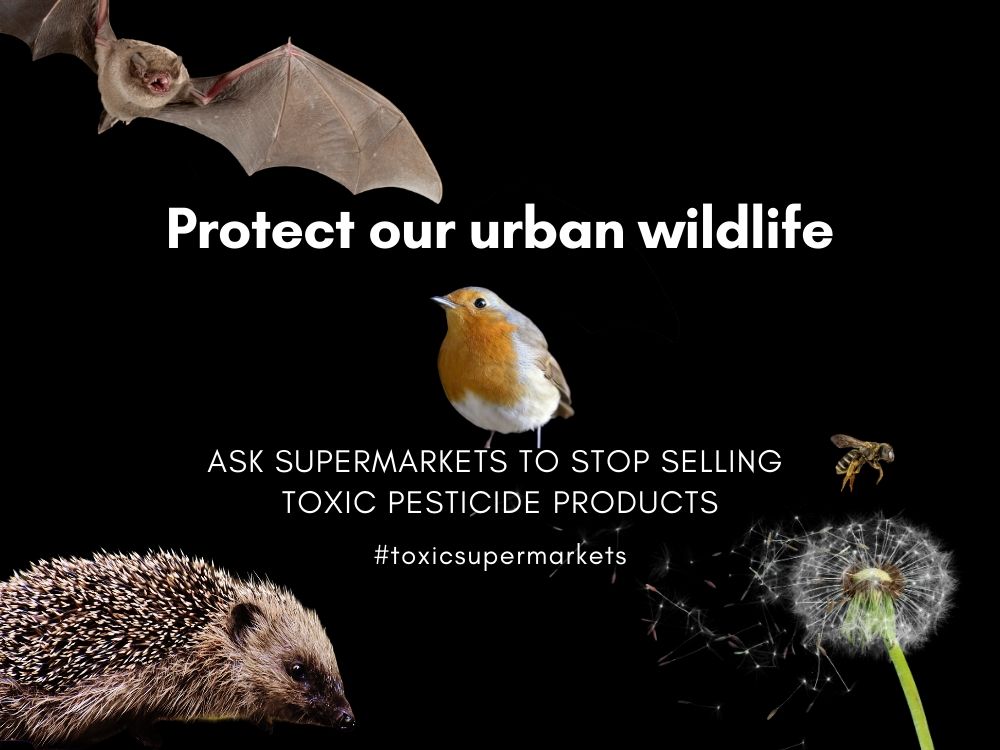 Take our easy online action
CEOs care about their supermarket's public image and they have the clout to make big changes. As a customer, you have the power to sound the alarm and tell your supermarket to take these poisons off their shelves. Take our quick online action below. 
In November 2019, many of you joined us in calling on UK supermarkets to take action on pesticides. Thank you! Now, as spring approaches and gardeners prepare for the year ahead, it's time to ask UK supermarkets to take pesticide products off their shelves.
Pesticides impact on our garden wildlife (and pets)
Gardens and allotments are havens for wildlife, but pesticide products can make them toxic environments. Herbicides (weedkillers), insecticides, and slug pellets are still widely used in gardens, poisoning our wildlife and removing their food sources. When was the last time you saw a hedgehog in your garden? Hedgehog numbers have declined from 30 million in the 1950s to around one million. Garden birds, bats, frogs and toads are all declining in numbers. And our insects, pollinators and native flowers are disappearing at an alarming rate.
But if we make our gardens pesticide-free, there is a chance that animals like these can thrive again.
"Pesticides are poisons and there should be no place for them on supermarkets shelves. We should not be using these chemicals in our gardens and allotments, where our children and pets play, and where our wildlife should be thriving. In any case there is no need for them – it is easy to garden without pesticides."

Professor Dave Goulson, University of Sussex
Pesticides impact on our health
The impacts of garden pesticide use aren't just environmental. For instance, there is evidence to suggest that the world's most commonly used weedkiller glyphosate (found in Roundup) could cause cancer, and that the insecticide lambda-cyhalothrin (found in Resolva Bug Killer) can affect the immune system.
There is absolutely no justification for pesticides that pose a risk to human health and the environment to be used by the general public without any training or guidance. Plus, gardening without pesticides is simple!
Find graphics to help share this campaign on social media and online here.
#toxicsupermarkets