Pesticide-Free Towns Campaign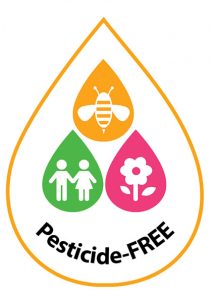 Welcome to our campaign to make UK towns and cities pesticide-free.
Many of the pesticides used in our urban areas can cause serious illnesses like cancers and birth defects. Children are particularly vulnerable. Hundreds of towns around the world have already gone pesticide-free. It's time for the UK to follow.
Become part of a new movement and join our campaign to persuade UK towns and cities to Go Pesticide-Free!
What are the Health Hazards?
The pesticide most widely used by local authorities in the UK is the weedkiller, glyphosate. This chemical has been linked to serious human health problems, including cancers and birth defects. Children and nursing mothers are particularly vulnerable to its effects. In March of 2015, the World Health Organization concluded that glyphosate is "probably carcinogenic".
Glyphosate also harms wildlife, including insects, earthworms, fish and amphibians. But dozens of other pesticides are also used by councils and many of them have been associated with illnesses from leukemia, to neurological and reproductive disorders.
Start your own Pesticide Free Campaign
Email Us