Pesticide-Free Towns Campaign
Change the system – it doesn't have to be this way
You can make change happen. Recent decisions to go pesticide-free by Glastonbury, Lewes, Hammersmith & Fulham and other councils across the UK are all a result of local people campaigning for change. And you can do the same with the help and support of PAN UK.
We have created a suite of materials (including a short guide to starting and running a campaign) that are available here, free of charge. We offer expertise and advice as you develop your campaign and are also happy to support you by speaking directly to your local councillors or other land managers.
The important thing to remember is that this is your campaign and you can make a difference. Be part of the growing Pesticide-Free Towns movement and leave a lasting legacy for your local area which protects people and the environment.
"Never doubt that a small group of thoughtful, committed citizens can change the world.
Indeed, it is the only thing that ever has."
Margaret Mead
Active Pesticide-free Towns Campaigns
Introduction – what's the problem?
Pesticides aren't just used in agriculture. A wide range of different pesticides (including insecticides, herbicides, fungicides and rodenticides) are used in our towns and cities. In fact, other than residues in food, the most common way for the majority of people in the UK to be exposed to pesticides is through spending time in urban, public areas.
Local councils are the main users, spraying pesticides in parks, playgrounds and other green spaces, road verges, cemeteries, pavements and around council houses. However, there are also many others that use pesticides including university campuses, car parks, hospitals, private housing developments, shopping centres and schools.
In most UK towns and cities it is currently impossible to avoid exposure to pesticides. However, a growing number of places around the world have already gone pesticide-free and are proving that it can be done. Urban pesticides are unnecessary and should be banned immediately in order to protect human health and the environment.
Dandelions are a food source for pollinators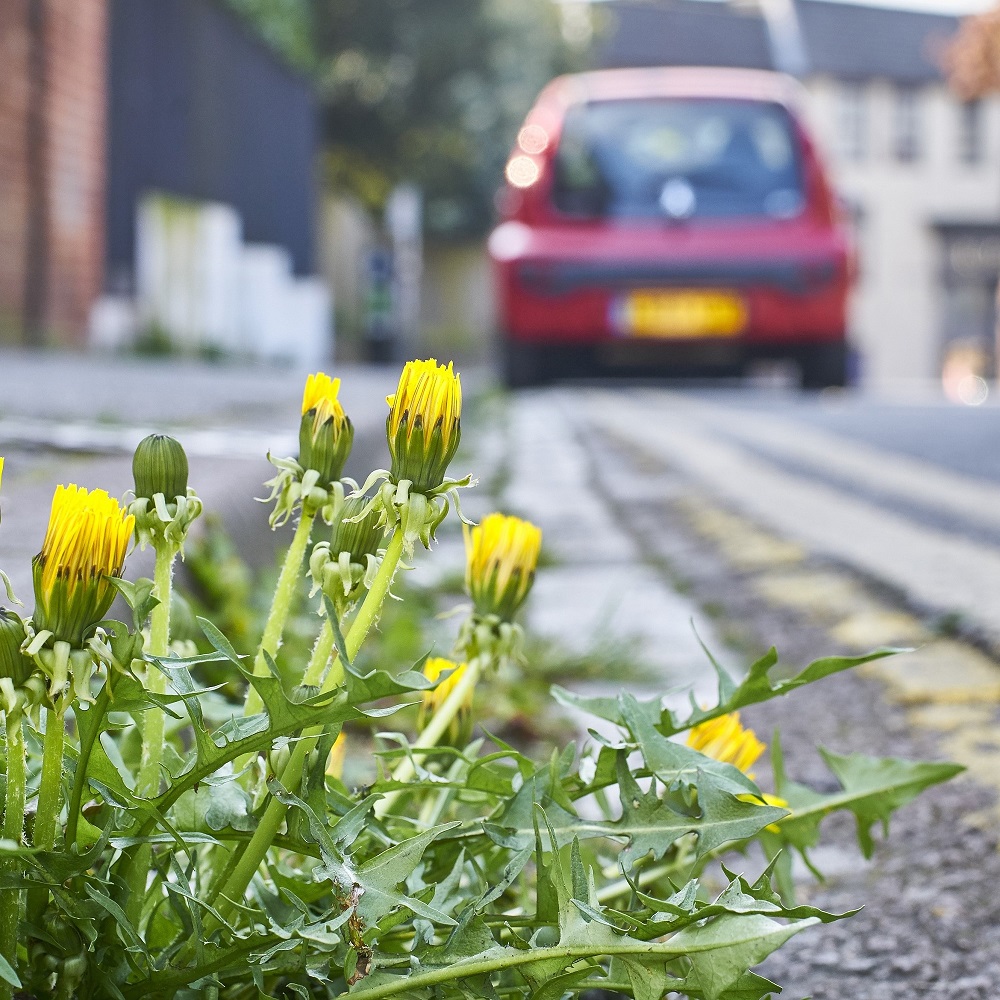 Successes – showing it can be done
As can be seen from our list of current bans and restrictions there are hundreds of towns and cities around the world that are already pesticide-free, and some that have been doing it for decades.
As a result of the campaigning undertaken by you, with the support of PAN UK, more and more UK towns and cities are also on the road to going pesticide-free. Here are a few examples:
In May 2017, Lewes District Council voted unanimously to stop the use of all pesticides in public parks and green spaces following a successful campaign set up by local residents. The Council's contractor has invested in a hot foam weed control system which has replaced the use of herbicides.
In early 2017, Wadebridge became the first town in Cornwall to go pesticide –free, opting for hot foam as the most effective alternative. The County of Cornwall is currently developing a County Pollinator Action Plan which involves a range of actions to better protect bees, including reducing pesticide use.
In June 2016, Hammersmith & Fulham (H&F) became the first London Borough to go pesticide-free, choosing to adopt a hot foam weed control system. H&F Councillor, Wesley Harcourt, said "While there is some debate over the health risks of glyphosate-based chemicals, there is no debate that at H&F, the health and well-being of our residents is our priority and we recognise the importance of a green agenda in better supporting that."
In June 2015, Glastonbury became the first council in the UK to ban the use of glyphosate and switch to non-chemical methods of weed control in all areas used by the public. They invested in a hot foam machine and are currently looking at options for hiring the equipment out to other neighbouring parishes in order to recoup some of the initial cost outlay.
PAN UK has looked at the health effects associated with the fifteen most frequently used active substances in the amenity sector and presented the findings in the table below. The classifications are taken from a wide variety of sources and different regulatory authorities around the world.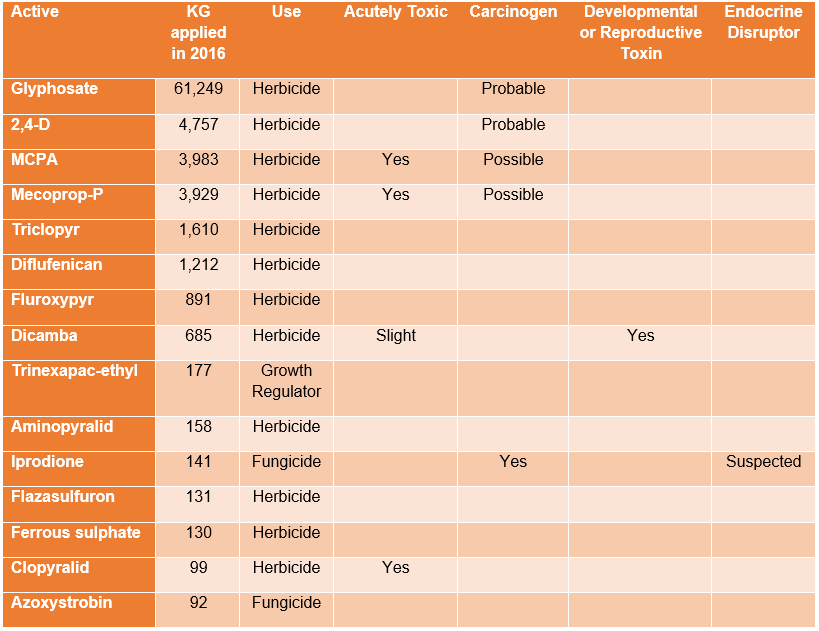 What are the health hazards?
In the most recent UK-wide survey (dated 26th April 2018), there were a reported 38 different types of pesticide used in the towns and cities of the UK.
Herbicides
2,4-D, Acetic Acid, Aminopyralid, Asulam, Carfentrazone-ethyl, Citronella Oil, Clopyralid, Cycloxydim, Dicamba, Diflufenican, Ferrous Sulphate, Flazasulfuron, Florasulam, Fluroxypyr, Glufosinate-ammonium, Glyphosate, Isoxaben, MCPA, Mecoprop-p, Pinoxaden, Propaquizafop, Propyzamide
Fungicides
Azoxystrobin, Bacillus sutilis, Carbendazim, Chlorothalonil, Fludioxonil, Fluopyram, Fosetyl-aluminium, Iprodione, Prochloraz, Propiconazole, Pyraclostrobin, Tebuconazole, Trifloxystrobin
Insecticides
Diflubenzuron, Imidacloprid
Growth Regulator
Trinexapac-ethyl
Glyphosate is the most widely used herbicide in the world and has been focused upon in recent years as a result of its classification as a 'probable human carcinogen' by the International Agency for Research on Cancer (IARC). However, pesticides are poisons designed to kill living organisms and many of the others are also associated with harmful human health effects.
What are the impacts on our environment?
Pesticides are having devastating effects on our environment and urban biodiversity.
When used on hard surfaces such as pavements and paths they tend to run off, contaminating water courses and harming aquatic wildlife in the process. Herbicides are used to turn parks into 'green deserts' where only grass grows. They kill all other plants, many of which are relied upon by birds, insects and other wildlife. In addition, many of the pesticides used are highly persistent meaning that they stay around in the soil long into the future.
Due to habitat loss and the large quantities of pesticides used in UK agriculture, wildlife is increasingly seeking refuge in our towns and cities. However, the overuse of pesticides is destroying many of the areas where they can forage for food and contaminating the natural resources they depend upon. As a result, the populations of many kinds of wildlife have been devastated in recent years. A 2017 study revealed a 76% decline in flying insects since 1990. We know that pollinators such as bees are particularly struggling.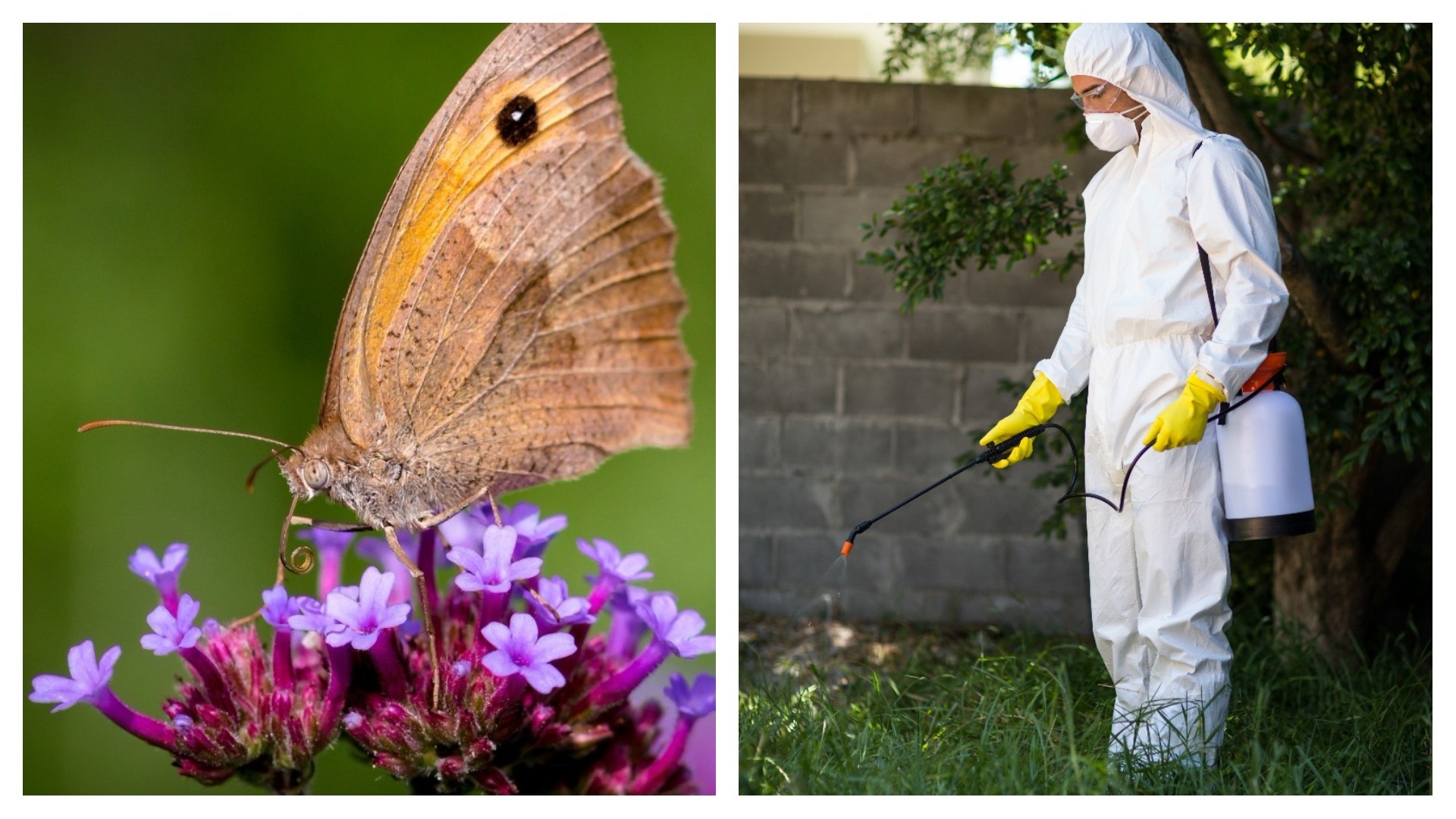 What are the alternatives to using pesticides in our urban spaces?
Raising public awareness is absolutely key to the success of going pesticide-free. Councils and other land managers must ensure they communicate their plan of action, and their reasons for change, to the public. If local residents understand the health and environmental benefits they are much more likely to support the initiative and accept a higher level of 'weediness'. It is also possible to get local volunteers to help with jobs such as hand weeding.
PAN UK is keen to work with councils and other land managers to devise bespoke strategies for ending pesticide use tailored to fit their local context.
There are a range of different approaches available to councils and other land managers that decide to stop using pesticides. The effectiveness of each method will vary greatly depending on the local context and environment and, in most cases, a suite of different approaches will be required to replace pesticides.
Alternatives methods include:
Hot foam systems, like hot water systems, kill plants using heat, but can be used in all weather conditions. This gives them a major advantage over chemical herbicides which can only be sprayed under ideal weather conditions.
Hand weeding is an option particularly for smaller areas such as playgrounds and on paths running through parks.
Acetic acid dilutions have been used very effectively to control weeds on hard surfaces in a variety of situations. Acetic acid is biodegradable and poses no risk of bioaccumulation.
Various types of manual approaches are available in the form of differing types of mulching. This is a particularly useful approach in ornamental beds and in parks.
Flame treatment has been used successfully to eliminate weeds.
Steel brushing can be used for large scale areas such as pavements and roads and in combination with the use of acetic acid spraying can be a very effective alternative.
High pressure hot water treatments can be particularly effective and also have other uses such as chewing gum removal.
Electronic control systems that kill stems and roots instantly and are particularly suited to dealing with invasive species are also available.