Changing UK Policy
Change the system – what can you do?
Since the EU referendum in June 2016, PAN UK has mobilised thousands of people to tell politicians that they want less pesticides in UK food, farms and urban public spaces after Brexit.
We will continue to watch Brexit closely and let you know when to contact decision-makers in order to have the greatest possible impact. Keep an eye out for our campaign actions by following us on Facebook and Twitter. Pesticide companies' lobbying machines are in overdrive right now so it's vital that our government also hears from you.
If you want to do something now, you can visit your local MP at one of their regular 'surgeries' and explain your concerns. Do feel free to contact PAN UK for advice before your meeting, or afterwards to let us know how it went.
Introduction
For decades, the way the UK regulates and uses pesticides has been largely decided at the European level. However, with our exit from the EU looming, the UK is currently at a major crossroads in terms of its relationship to pesticides.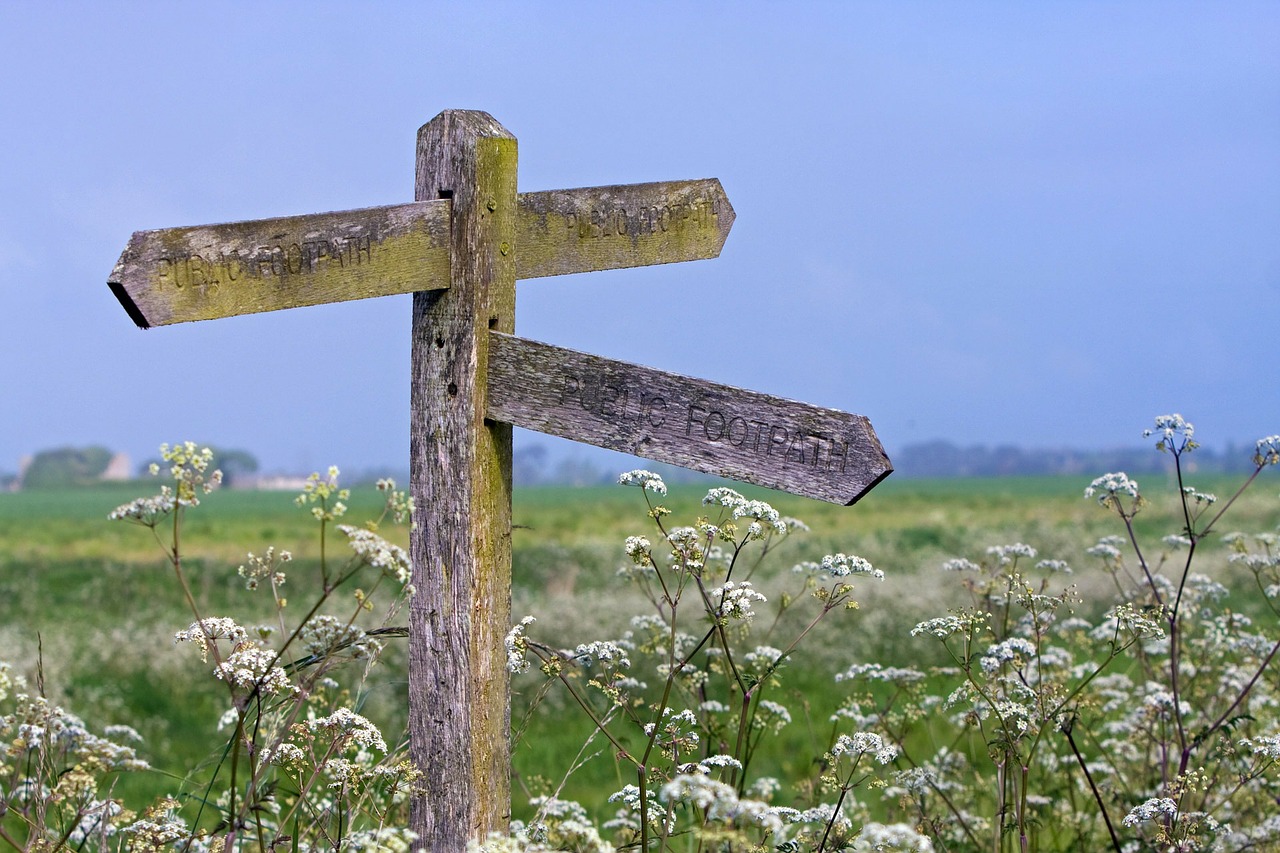 Although far from perfect, the EU's pesticide regime is widely considered to be the strongest in the world in terms of protecting human health and the environment from the harmful impacts of pesticides. When the UK leaves, we aren't just losing the European laws that govern pesticides but also the institutions which apply them (this is known as the 'governance gap').
The UK therefore has a critical choice to make and it is one that will affect us all. We could:
Mirror the existing EU system and all its regulations and standards.This would involve copying and pasting all pesticide-related EU legislation into UK law and ensuring that all functions performed by EU institutions are taken on by UK equivalents. Referred to as 'regularity alignment', meeting all EU standards would ensure that British farmers are still able to sell their produce to Europe. On average, between 60-65% of our agricultural exports go to the EU and for some products, such as fruit and nuts, this figure is as high as 93%.

Slash regulations and weaken our existing standards.Deregulation enthusiasts see Brexit as an opportunity for the UK to get rid of our high environmental and safety standards which they view as 'red tape' that places an unnecessary burden on businesses. This would most likely result in a number of outcomes; pesticides banned in the EU being once again allowed into the UK; authorised pesticides being applied in greater quantities; less stringent rules limiting how and where pesticides can be used. Ultimately, any weakening of our existing pesticide standards would lead to an increase of pesticides in our food, farms and urban spaces and increase the exposure of UK citizens and our natural environment to their harmful impacts.

Use Brexit as a one in a lifetime opportunity to go further than the EU.The UK could establish itself as world leader by opting for stronger pesticide regulations and rethinking the way we produce food. We could move away from our current system of pesticide-intensive, industrial-scale, monoculture farming which is unsustainable. Under this scenario we would bring in stronger regulations to eliminate the harms caused by pesticides and increase government support to UK farmers working hard to reduce their pesticide use, including organic growers.
Potential impacts of the path we choose to take
Each of the above three options will have huge impacts for generations to come. Most notably in the following areas:
a) The environment
"We will deliver a Green Brexit, where environmental standards are not only maintained but enhanced."
UK Environment Secretary Michael Gove, November 2017
Partly due to the massive increase in pesticide use in recent years, the UK's environment is at crisis point. Pesticides have contaminated much of our soil and water and are devastating populations of birds, bees and other wildlife.
The government has promised a 'Green Brexit' and pledged to be the first to leave the environment in a better state than they inherited it. But without strong pesticide laws, and significant government support for non-chemical alternatives, our natural environment won't recover.
Brexit is therefore a real make or break moment for our environment. Mirroring the EU pesticide regime must be the absolute minimum but still won't be enough to rectify the damage that has been done by pesticides over the past decades.
If the government is serious about achieving the long-term goals it set out in its 25 year environment plan – including clean water, thriving plants and wildlife, using resources from nature more sustainably and efficiently – then it must go further than the EU in protecting our environment from pesticide-related harms.
b) Food and farming
"We have encouraged a type of farming which has damaged the earth. Countries can withstand coups d'état, wars and conflict, even leaving the EU, but no country can withstand the loss of its soil and fertility."
UK Environment Secretary Michael Gove, October 2017
As a member of the EU, the UK has always supported industrial-scale farming which requires large amounts of pesticides. This has meant that much of the food we grow (particularly fruit and vegetables, but also meat, dairy and cereals such as wheat) contains residues of multiple pesticides. The number of different chemicals being used also appears to be rising.
The UK government has said that post-Brexit, it will realign its support to farmers that use environmentally-friendly practices. This would mean that farmers practising truly sustainable techniques, such as Integrated Pest Management, would receive the subsidies and support they deserve. It would bring the cost of good quality food down and enable everyone to access it, regardless of their financial situation.
It's vital we use Brexit as an opportunity to radically rethink the way we produce food. If we strengthen the UK's pesticide laws and bring in new support for farmers producing sustainably then we can create a world class food system which delivers for farmers, the environment and consumers.
b) Health
"Unfortunately, the issues outlined within the letter do not fall under the Department of Health's policy area."
Response from Lord O'Shaughnessy (minister at the Department of Health) to a request from PAN UK to meet to discuss Brexit and pesticides, July 2017
Despite the growing body of evidence showing that our constant exposure to pesticides is causing a range of serious health problems, the UK government refuses to engage in any meaningful way with the issue. This is deeply concerning given that long-term pesticide exposure has been linked to the development of a range of diseases including Parkinson's, asthma, depression and anxiety, and cancer.
Even as an EU Member State, the UK's current regulatory system is woefully inadequate in terms of protecting human health. Deficiencies include: the lack of any systematic monitoring of the health impacts of long-term pesticide exposure; the fact that Maximum Residue Levels are only set for individual chemicals, ignoring the fact that many food items will hold residues of multiple pesticides; the sole focus on the size of the dose disregards new evidence that small doses of poisons could be worse for human health than higher doses. These inadequacies mean that pesticides which have been shown to harm human health are used widely.
Brexit is an opportunity to make our regulatory system fit-for-purpose in terms of protecting the health of UK citizens from pesticide-related harms. However, the government currently appears unwilling to make the improvements required.
Upcoming opportunities
As a result of Brexit, there have never been so many opportunities to influence the way the UK governs pesticides. PAN UK is working hard to ensure that all of these various policy processes deliver the strongest possible protections for UK citizens and our natural environment and support sustainable non-chemical alternatives.
What is PAN UK doing?
(click on each heading below)
Published in January 2018, 'A Green Future' sets out the government's vision, goals and policies. The Plan reasserts the government's commitment that "the body of existing EU environmental law continues to hold sway in the UK" but unfortunately fails to make any new, tangible commitments to reduce pesticide-related harms. Read our initial reaction to the pesticide sections of the plan here.
Strong pesticide regulations, and support for non-chemical alternatives, can actually help to achieve many of the broader environmental goals and policies contained in the Plan including tackling biodiversity, reducing water pollution and helping people improve their health and well-being by using green spaces. In contrast, failing to regulate pesticides effectively will undermine the achievement of the aspirations set out in the Plan and hold back its ability to deliver the environmental improvements it promises. Read our short policy briefing on how pesticide policies can be used as a tool for implementing the 25 Year Environment Plan.
Expected to begin its journey through parliament in 2018, this new law will lay out the support that farmers in England will receive to replace the subsidies provided by the EU's Common Agricultural Policy. PAN UK is lobbying to ensure the Bill contains a clear, quantitative target for an overall reduction in UK pesticide use, increased support for farmers to transition to sustainable methods of pest control and the introduction of a pesticide tax. In February 2018, Defra launched a public consultation on its paper 'Health and Harmony: the future for food, farming and the environment in a Green Brexit' which will form the basis of the new Agriculture Law. Read PAN UK's full response to the consultation here.
In November 2017, Environment Secretary Michael Gove announced that there will be a public consultation to design a new, independent body to hold government to account for upholding environmental standards in England post-Brexit. This body will replace the functions currently carried out by the European Commission which scrutinises new legislation and takes action against illegal behaviour. PAN UK will campaign to ensure that this body has the power to punish users of pesticides who contaminate the environment.
The government will also be consulting on the development of a policy statement on environmental principles to underpin policy-making post-Brexit. Crucially for pesticides, these principles include both the precautionary principle and the polluter pays principle which ensures that those responsible for damaging the environment have to pay for the clean-up. These principles are central to EU environmental law, providing a framework for how policy should be developed as well as guidance to businesses and the courts. PAN UK will be feeding into the consultation to ensure they are retained.
While all these legislative processes are ongoing in Westminster, the UK government continues to negotiate the terms of Brexit with the EU in Brussels. We know that UK civil servants working on pesticides are expecting to be called upon to help the negotiating team to understand the issues. PAN UK is therefore lobbying to build support for our recommendations among relevant civil servants.
As the UK's relationship with the EU shifts, the government has begun to look towards trade talks with countries outside of Europe such as the US, China and Brazil. These future Free Trade Agreements could have a massive impact on the UK's relationship to pesticides. For example, based on figures from 2017, the total number of active substances that can be legally used in the US under its risk-based system is almost three times higher than the EU allows (roughly 1,430 vs 486). PAN UK will be watching these deals closely to ensure that they don't enable a flood of harmful pesticides to enter the UK.
Currently, this will be an almost impossible task given that our government is able to negotiate trade deals behind closed doors with almost no scrutiny from parliament, let alone the general public. The new Trade Bill currently making its way through parliament is a chance to change this. PAN UK doesn't have the capacity to work on it in any detail so for more information on the Trade Bill, please visit the Trade Justice Movement's website. Also, read our post: Pesticide Regulation: Lessons learned from negotiating an EU-US trade deal.
Environment and agriculture are fully devolved policy areas, meaning that they are both decided by the devolved administrations in Scotland, Wales and Northern Ireland. This adds an additional area of complexity and uncertainty into lobbying on the UK's pesticide regime post-Brexit and many questions remain unanswered. For example, will the new Agriculture Bill apply to the whole of the UK or just to England? Will any pesticide standards agreed by the negotiating team in Brussels cover all four countries or again just England? PAN UK will continue to campaign to ensure that all UK citizens are able to enjoy strong protections from harms caused by pesticides, not just those in one particular country of the Union.
Securing and strengthening UK pesticide standard in 2020
– Full briefing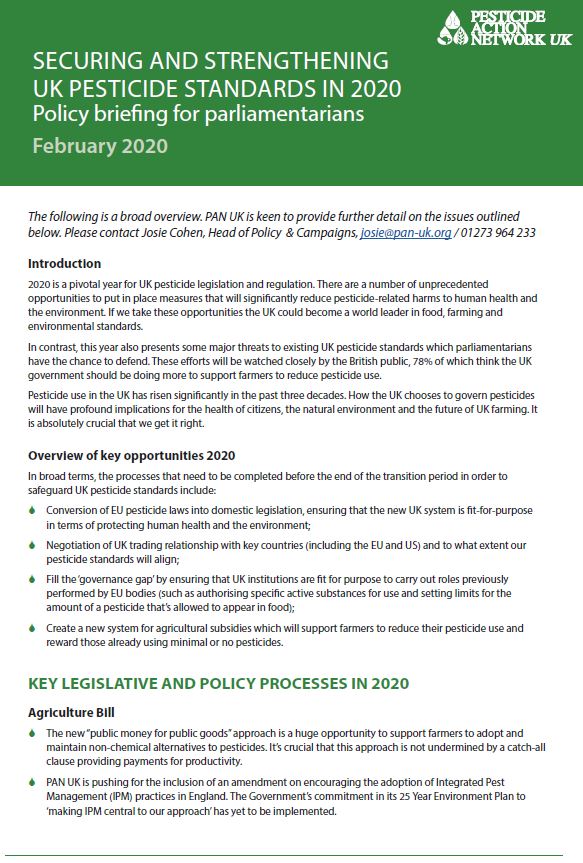 Our recommendations
PAN UK has developed a set of recommendations for the UK's pesticide regime post-Brexit.
They are:
Our Toxic Future? – Full Briefing