Our new report Toxic Trade compares current UK pesticide protections with that of two countries slated as major priorities for post-Brexit Free Trade Agreements – US and Australia – and a third country, India. Co-authored with Sustain and trade expert Dr Emily Lydgate, the report focuses on how trade deals with these countries threaten to weaken UK pesticide standards. It also looks at ways in which these deals could increase pesticide-related harms to UK citizens, wildlife and the natural environment.
The UK is in the process of negotiating trade deals in the wake of its exit from the EU. While far from perfect, UK pesticide standards are some of the strongest in the world in terms of protecting human health and the environment. UK safety limits for the levels of pesticides allowed to appear in food tend to be more stringent than in the majority of other countries outside the EU and, along with its European counterparts, the UK is more likely to ban a pesticide due to concerns over the harms it causes.
As a result of these relatively high standards, future trade deals with non-EU countries with weaker pesticide protections present a considerable risk to the health of UK citizens and the environment. Trade partners attempting to secure access to the UK market for their food exports have listed UK pesticide standards as a key sticking point and made it clear that weakening them is a priority.
Published alongside the report is new YouGov polling which reveals that the UK public is overwhelmingly opposed to any lowering of UK pesticide standards to meet the demands of other countries' trade negotiators. 71% of respondents are 'concerned' that a trade deal with the US in particular will increase the amount of pesticides in the food they consume, with 43% of people 'very concerned'. The same figure (71%) agree that the UK Government must resist pressure in trade negotiations with the US to overturn bans on pesticides, even if this means the "best" trade deal cannot be reached. Meanwhile, 79% are concerned about impacts to health resulting from a lowering of UK pesticide standards with 77% worried about negative impacts on the environment.
Key findings
Larger amounts of pesticides in UK food
If the UK agrees to weaken its pesticide standards during a trade negotiation then food on UK shelves may soon be allowed to contain significantly larger amounts of highly hazardous pesticides. Here are a few examples:
American apples are allowed to contain 400 times the level of the insecticide malathion than UK apples. Malathion has been linked to cancer and can impair the respiratory system and cause confusion, headaches and weakness.
Compared to UK grapes, American grapes are allowed to contain 1,000 times the amount of the insecticide propargite that can affect sexual function and fertility, and has been linked to cancer and miscarriages.
Australian wheat is allowed to contain ten times the amount of the insecticide carbaryl than UK wheat. For Indian wheat the figure is four times that of UK wheat. Carbaryl has been linked to cancer and classified as a suspected endocrine disruptor. It is also a developmental or reproductive toxin which means it can have adverse effects on sexual function and fertility and can cause miscarriages.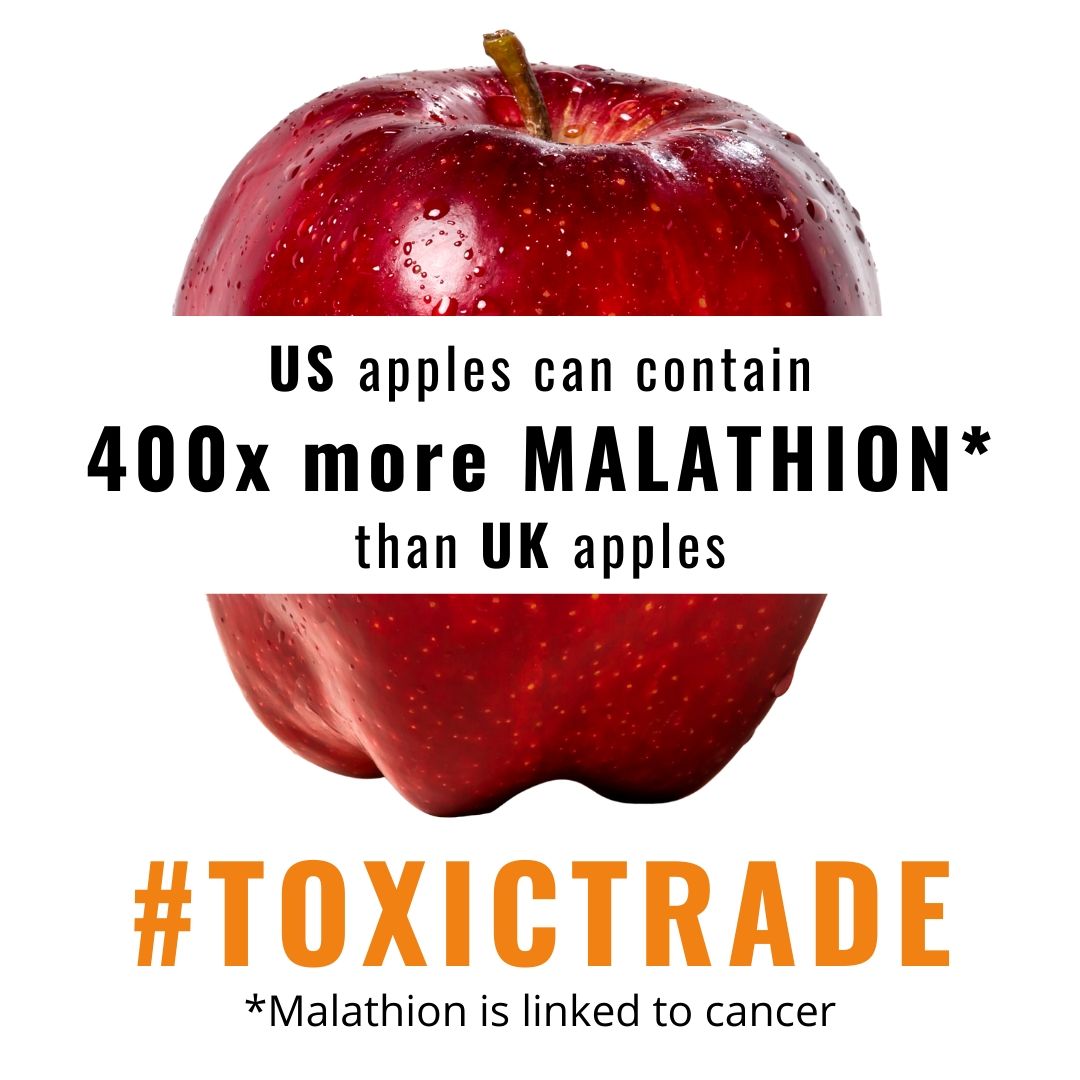 More toxic pesticides in UK food
Food consumed in the UK is not currently allowed to contain residues of pesticides that have not been approved at the EU level. If the UK bows to the demands of trade partners to lower standards, then pesticides that have been banned due to concerns over their impact on human health could once again appear in UK food. Examples include:
Chlorpyrifos is allowed to appear in food produced in the USA and India. Chlorpyrifos was banned by the EU due to concerns over its negative impact on the brains of foetuses and young children. Multiple studies have revealed the links between exposure to chlorpyrifos and low IQ and delayed mental and motor skill development in young children.
In the US and Australia, food is allowed to contain residues of dimethoate. Dimethoate was banned by the EU for reasons which include the potential risk posed to consumer health through long-term exposure via diet.
Iprodione is allowed to appear in food produced in US and India. Iprodione was banned by the EU over uncertainties as to its impact on consumer health. It has been linked to cancer and is classified as a suspected endocrine disruptor which means it can interfere with hormone systems and can cause birth defects, developmental disorders and reproductive problems such as infertility.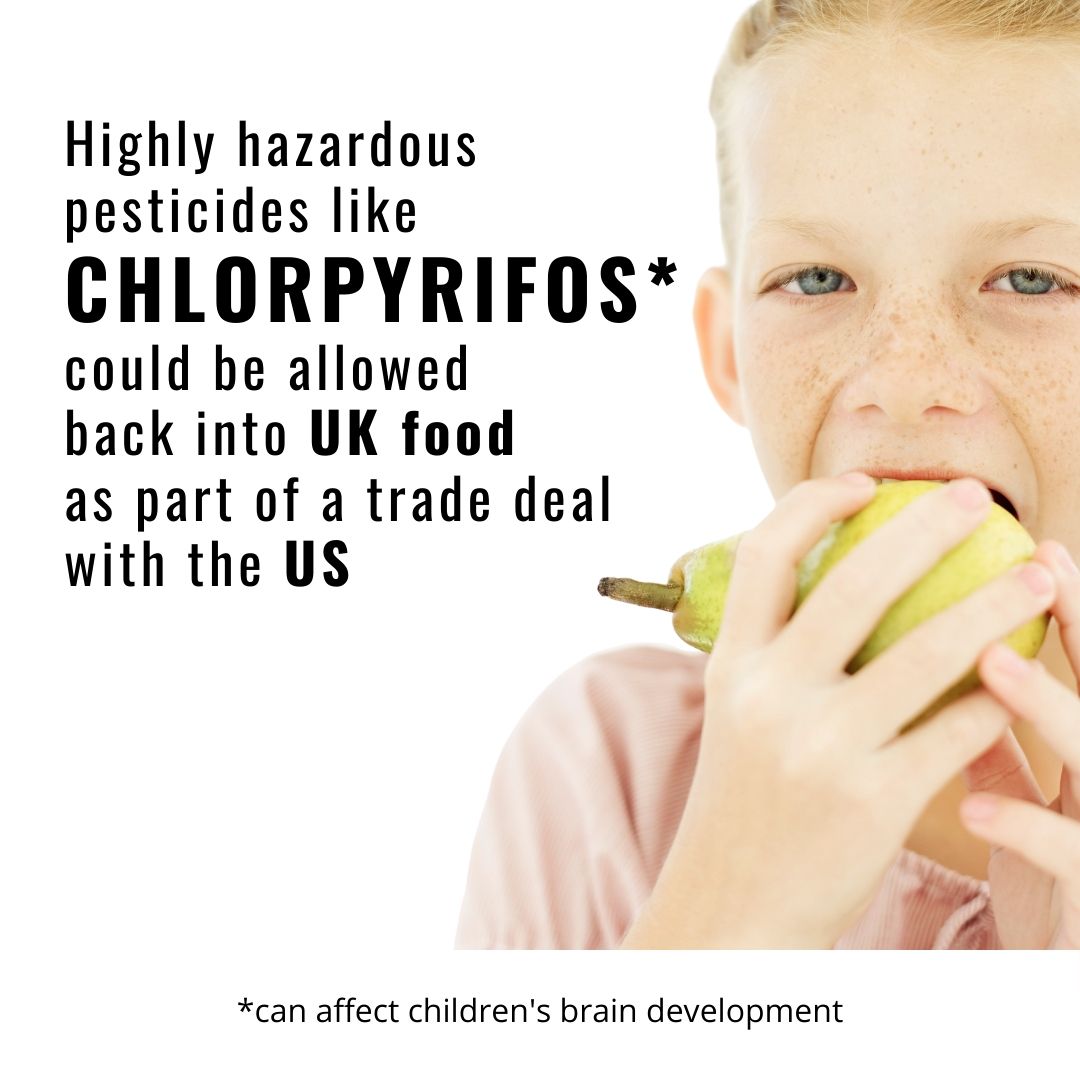 More harmful pesticides allowed to be used in the UK
Potential trade partners such as the US approve many more pesticides than the UK. These trade partners have made it a priority to drive down UK standards in order to allow more toxic substances to be used in British agriculture, urban areas, homes and gardens. A brief look at the numbers reveals the extent of the risks posed to the health of UK citizens and the natural environment.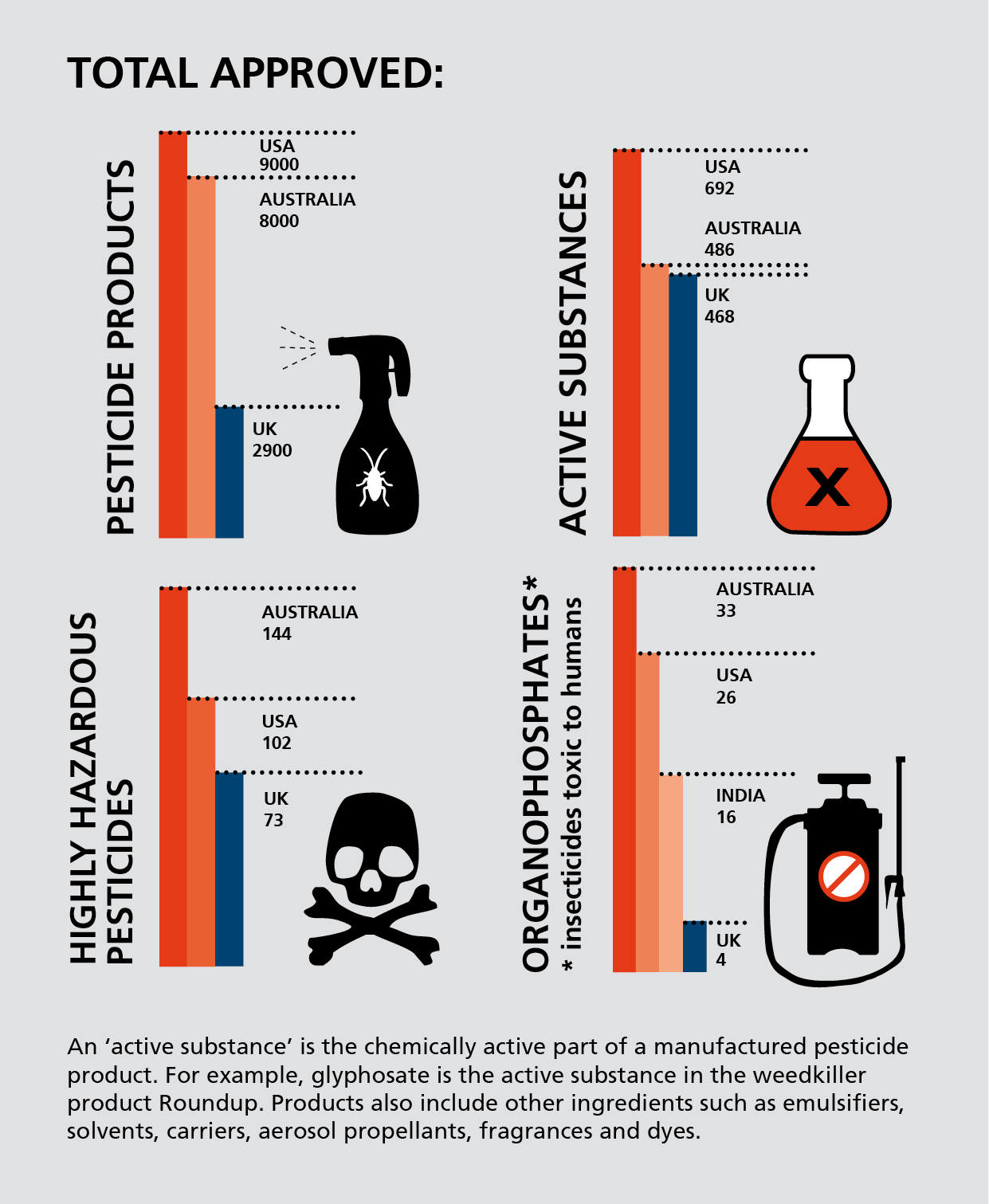 Harmful to bees and pollinators
A range of pesticides which are banned in the UK due to their toxicity to bees and other pollinators are allowed for use in the US, Australia and India. These include fipronil and neonicotinoids, which are notorious for driving alarming declines in bee populations.
Water contaminants
The UK has banned a number of pesticides due to their high potential to pollute water and damage aquatic life. The list includes atrazine and diuron, both of which are authorised for use in the US, Australia and India.
Harmful to human health
The UK has tended to take a more precautionary approach than non-European countries to protecting human health from pesticides. As a result there are a wide range of pesticides banned in the UK due to health concerns that are still allowed elsewhere. The list includes paraquat, a pesticide with one of highest documented human fatality rates which is banned in over 40 countries but remains in use in the US, Australia and India.
A closer look at a group of insecticides called organophosphates reveals some major differences in approaches. Organophosphates are known to be particularly toxic to humans and have negative impacts on children's cognitive development. They were responsible for the poisoning of hundreds of UK sheep farmers in the 1970s and 80s.
What needs to happen?
The UK Government must not allow any weakening of UK pesticide standards via trade deals. This must include maintaining current safety limits for the amount of pesticides permitted in food, and making sure that food containing residues of currently banned pesticides cannot be imported into the UK. The Government must also refuse to weaken the UK approvals system in order to reauthorise any pesticides that are currently banned due to health or environmental concerns. For a full list of recommendation please see the Toxic Trade report.
There is currently almost no opportunity for parliamentary or public scrutiny of UK trade agreements. This makes it all too easy for the UK Government to trade away our hard-won protections behind closed doors. It's therefore crucial that the public, journalists and MPs start calling attention to the significant risks posed to health and environment by toxic trade.
Frequently Asked Questions
Are pesticides all bad?
Sam Claydon
2020-12-17T20:55:45+00:00
The government carries out a survey of pesticide use every year which they publish on the Pesticide Use Survey Statistics (PUS STATS) website. The data they publish only covers pesticides in detail by type (i.e. herbicides, fungicides, insecticides and so on). Crucially, this is only measured by weight and not by how powerful (toxic) the pesticides are.
What we can say is that pesticides impact nearly all life on earth. They are substances designed to kill pests and undesirable plants. Yet, their impact is not limited to these effects. Some pesticides have been shown to be more damaging to human health than others. They can be toxic and bio-accumulate in bodies through direct contact or residues, with varied effects such as cancer and endocrinal disruption. You can read more about health effects here, and about residues in our report, The Cocktail Effect. Pesticides also affect the environment, leaching into soils and waterways, killing insects, and depleting bird and fish populations.
To grow food, pests need to be kept under control. In industrial agricultural practices, where farmers rely on pesticides to grow monocultures, pests and diseases have actually been shown to increase their resistance, progressively calling for larger amounts of these chemicals to successfully treat crops, to greater health and environmental repercussions. A vicious cycle.
Thankfully, managing crop loss has been proven to be possible without the use of harmful chemicals, and without putting humans and biodiversity at risk. Through Integrated Pest Management (IPM), farmers turn to a suite of techniques to work with nature to protect crops against pests and disease, instead of using synthetic pesticides.
"A clear and central objective of US negotiators is for the UK to lower its pesticide standards. The current picture in the UK of intense political pressure coupled with a lack of parliamentary and public scrutiny means the risk of this happening is very high."

Dr Emily Lydgate, Senior Lecturer in Environmental Law at the University of Sussex