A hero in sustainable cotton – Wudinesh Koricho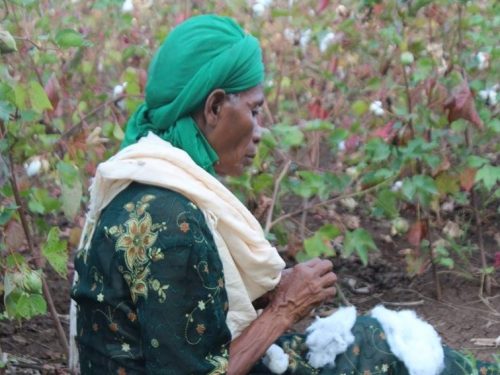 Meet Wudinesh, a farmer in Shelle Mella, Ethiopia. She is mother to seven children and has participated in our Farmer Field School programme for more than 5 seasons.
Wudinesh is a cotton farmer and has learnt how to grow her crops using Integrated Pest Management techniques. She no longer uses pesticides, but uses a natural food spray made from everyday, easily sourced ingredients which encourages beneficial insects into her crops. She can now identify the difference between a beneficial insect and a pest, and has learnt how to monitor her crops for pest outbreaks. She has strategies in place for responding to these outbreaks and preventing them in the first place. Her training has included soil and water management, composting, inter-cropping and weeding.
Wudinesh is proud of her 'white gold' and says she gets better yields and cotton quality than her neighbouring male farmers. Her livelihood has improved now that she is also receiving a better price for her cotton.
She is an active member of the women's local spinning group and is keen for more women to take part in the training programme. She works on spreading the word at community gatherings. Wudinesh speaks very enthusiastically about the project and is thankful that her children, her community and her environment are no longer contaminated with toxic chemicals.
NOTE: Wudinesh is now a certified organic cotton farmer, one of the first certified organic cotton farmers in Ethiopia. Read more about this success story here.
"Cotton welcomes babies into the world (a cotton cloth is used to wrap new-born babies), clothes us throughout life and then helps us on our way out of this world (a cotton shroud is used to wrap the deceased)." She is appalled at the idea of this cotton being contaminated by poisonous pesticides.