Case Study: Pesticide-Free Brighton & Hove
Brighton & Hove is a seaside city with over 600,000 residents in the county of East Sussex, UK. In March 2016, Brighton & Hove Council unanimously adopted a Motion promising to phase out the use of glyphosate and seek non-chemical alternatives. However, very little action was taken until a wide-scale campaign around the 2019 local elections was launched. Now, Brighton and Hove are phasing out the use of pesticides by 2022. 

W
hat 
campa
igners 
did 
In 2015, residents and PAN UK launched a campaign to stop the use of glyphosate– and other herbicides- in Brighton & Hove after the International Agency for Research on Cancer (IARC), the World Health Organisation's cancer agency announced that the weedkiller glyphosate is a "probable human carcinogen".  
Campaigners used a paper petition at first to collect signatures. This allowed them to go into local shops and businesses and raise awareness of the problem, which many people were unaware of. Never underestimate the power of an old school paper petition!
The campaign soon gathered the support of local groups such as The Brighton Breast Cancer Association, and also local councillors sympathetic to the cause. These councillors put forward a motion in March 2016 to end the use of pesticides in the city, which passed unanimously.  
The end? Not quite.  
Unfortunately, despite the motion being passed in 2016, the council didn't follow through with its promises and dragged its feet for three years! So, in 2019, PAN UK set up a campaign around the local council elections, asking candidates across parties to pledge to make Brighton and Hove pesticide-free for good (scroll down to see who took the pledge).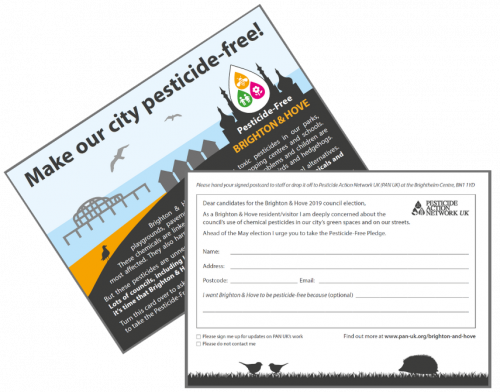 Campaigners again asked local businesses to put posters up to raise awareness of the issue and encouraged customers to sign postcards asking the council to stop using pesticides. Over 1,000 people joined in the campaign. Members of the PAN UK team spent days chatting to customers and getting postcards signed in supportive businesses like Lush and Infinity Foods, the latter even created a window display to support the campaign. 
Campaigners also attended a local environmental hustings and asked the candidates about their plans for ending the local use of pesticides, to which they all unanimously agreed that a phase-out was required.
After the election, any councillors who had pledged felt a responsibility to follow through and started putting concrete plans in place to phase-out the use of pesticides across the city.  
Number of local residents who signed a postcard in support!
"I want Brighton & Hove to be pesticide-free because I want a cleaner, less polluted world for me and my children."
"I want Brighton & Hove pesticide-free because it's essential to promote wildlife within our city!"
"I want Brighton & Hove to be pesticide-free because biodiversity depends on it!"
"I want Brighton & Hove to be pesticide-free because we don't need poisons in our green spaces."
"I want Brighton & Hove to be pesticide-free because it's a no-brainer!"
"I want Brighton & Hove to be pesticide-free because we are exposed to so many chemicals every day and urban pesticides is an easy one to eliminate."
"I want Brighton & Hove pesticide-free because I believe we should look after our ecosystems and not poison people, pets and wildlife!"
"I want Brighton & Hove to be pesticide-free because I value lives over profit."
"I want Brighton & Hove to be pesticide-free because it's 2019 and we now know better!"
"I want Brighton & Hove to be pesticide-free because this is the way forward and I want B&H to be there!"
How did the council move forward?
Councilllor Anne Pissariou, Chair of the Environment, Transport and Sustainability Committee made the pesticide-free pledge during the election and took on the task of exploring alternatives, along with council officers Susan Connelly (Project Officer, City Environment), Rachel Chasseaud (Head of Tenancy Services) and Robert Walker (Head of City Parks).  
They first had a meeting with PAN UK to discuss viable alternatives and a way forward. It was decided at the meeting that a three-year phase-out plan would be the best approach, giving the council time to plan, experiment and implement effectively instead of rushing into anything. 
In order to get costings, experience and advice the council started to reach out to other councils across the UK who had already stopped using pesticides. In particular, the council worked with Lewes District Council who had been pesticide-free since 2018.  
The council built on efforts to reduce pesticide use such as using woodchip to keep weed growth down in selected areas of parks and housing estates. They started mapping areas where they could reduce spraying or stop it altogether while they searched for alternatives. 
Next, they trialled the Foamstream machine, carefully recording areas where they had used it. After the initial trial, they concluded that they wouldn't invest in a Foamstream machine just yet, but instead invested an initial £33,000 per year to pay council operators to do hand-weeding with hoes, steel brushes and other tools. 
Once they had decided on their plan for the year 2019/2020, Cllr Pissaridou took a motion to the council, calling for a three-year phase-out, after presenting the findings of their trialling and research. This passed unanimously.  
Brighton and Hove are still in the first year of their phase-out plan, and still use herbicide in some areas. However, they will continue costing and trials until they can find a viable alternative. They have set up a task-force to come together and regularly discuss progress made and to decide next steps toward a pesticide-free Brighton and Hove,  
Conclusions
Even if a motion has passed in 

council

, they don't always follow-through. The council needs to be kept accountable.

Getting 

councillor

 candidates to pledge in a local 

election

is an effective way of putting pressure on the council to act.

Gaining support of local businesses and civil society groups is crucial

.

Clear and careful planning is needed for a successful phase-out strategy.

 

 
Council election candidates who took the pesticide-free Brighton & Hove pledge in 2019: