Pesticide Concerns in Cotton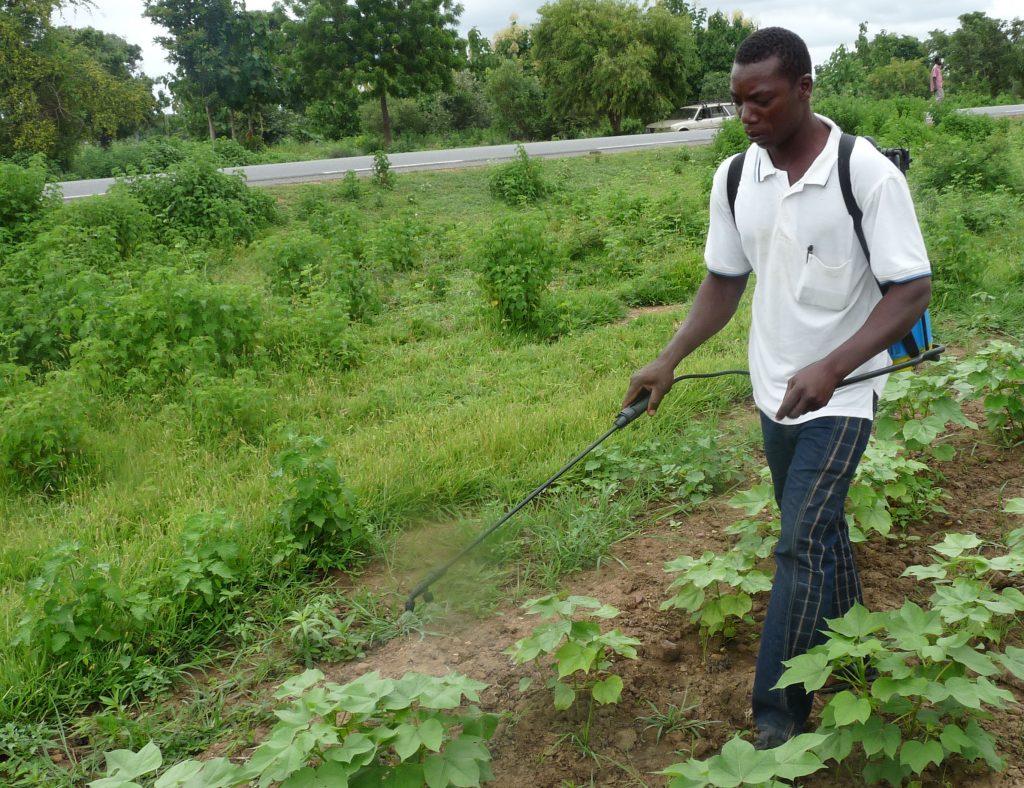 Since 2013 we have been working to support cotton farmers in Southern Ethiopia to adopt safer and more sustainable methods. We now have 2000 smallholder farmers achieving average yields over 100% higher than before. An organic producers' cooperative is selling Grade A organic cotton at a premium price and, with our technical support, it has just started supplying organic seed to farmers in the area. So much can be achieved and we are grateful to TRAID and the JJ Charitable Trust for financing this initiative.
Find out more below: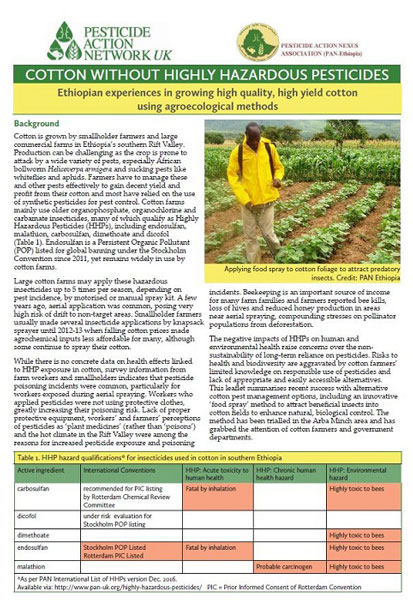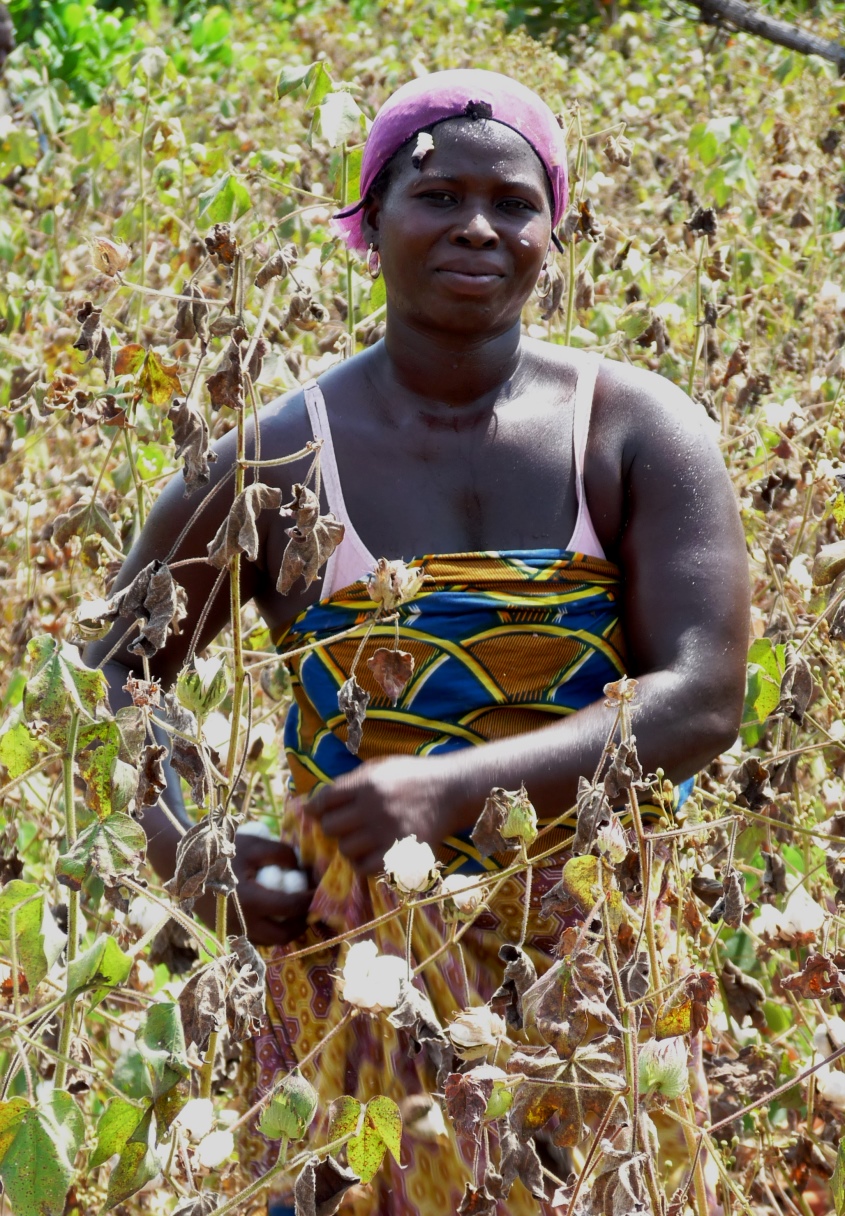 PAN UK has worked in West and Central Africa for more than 15 years, supporting thousands of farmers to grow organic cotton. We work with local groups – like OBEPAB in Benin, ENDA in Senegal and PAN Mali – to provide funding, technical support and training. We have two active organic cotton projects at the moment – supporting almost 2,000 farmers in Benin and 2,000 in Ethiopia.
Our projects are among the most successful in Africa. Our project in Benin came top in an independent review of cotton support programmes across Africa by the German aid agency GIZ. Our farmers achieved the highest gross margins and the project achieved particularly high scores for resilience and poverty reduction.  Why are our projects so successful?  They all include the following five elements:
We provide extension services, teaching farmers how to grow healthy crops and training them in non-chemical pest control, including ecology and entomology to recognize and manage pests. According to Simon Ferrigno, a specialist consultant on Sustainable & Organic Farm Systems, OBEPAB has the 'best extension and farmer support services in Africa.'
We provide training and advice to help villages establish co-operatives. These give communities a structure through which they can effectively articulate their needs to local government, share learning, and negotiate better deals with suppliers and traders.
We conduct research into innovative pest control technologies that boost cotton yields and reduce reliance on pesticides. For example, we have developed a harmless spray (made from fermented local food ingredients) that farmers can make themselves, which attracts beneficial insects into cotton fields to control pests. This spray, combined with our training programme, has helped farmers to control pesticides, yet maintain yields comparable to their conventional neighbors. Not only has this reduced their exposure to pesticides, but also it has also improved the profitability of their cotton. Find out more about our food spray technique.
A key feature of our projects is that they support women and girls. Our projects in Benin have one of the highest ratios of women farmers in Africa (40%). As well as cotton, we focus on crops that are important to women and their financial independence like Shea and other ground provisions. A big part of this support is to provide labour-saving infrastructure for activities traditionally conducted by women (e.g. water collection, Shea butter processing). This frees up time to engage in other productive activities (or in the case of younger girls, to attend school). We also support micro-industries like weaving to enable women to earn their own incomes, giving them freedom over economic choices for themselves and their children.
Our organic cotton farmers typically grow more than 20 other food and cash crops as part of their organic system. This means that they are not entirely reliant on cotton to feed their families. This strategy is less risky than monocrop cotton production as it spreads the risk among different crops. Also, crops can be harvested throughout the year, bringing a more even distribution of income to the household.
Introducing Sustainable Cotton to Ethiopia
Since 2013 PAN UK and PAN Ethiopia have been working together to introduce sustainable cotton production to farmers near Arba Minch in southern Ethiopia.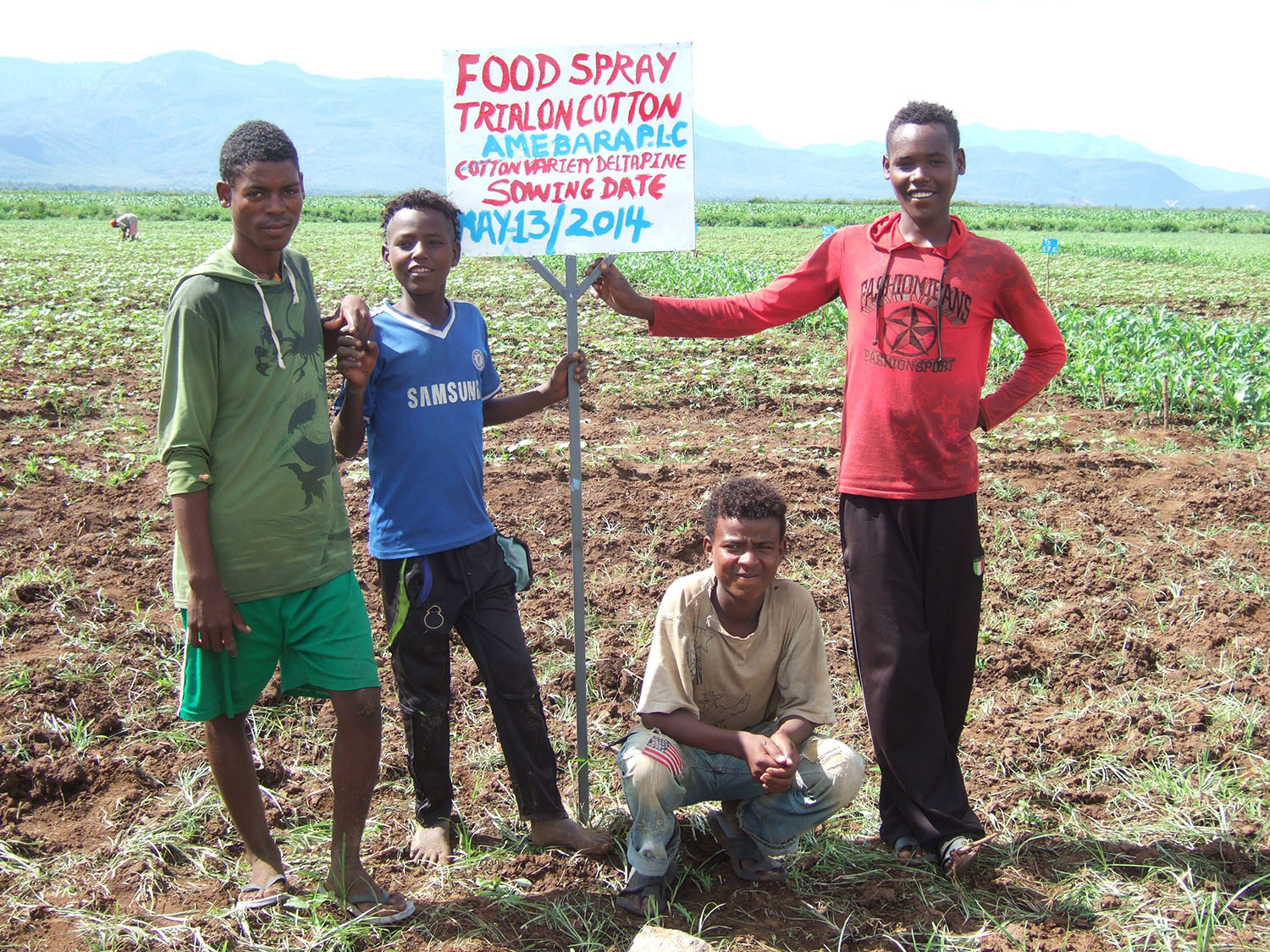 SUCCESS
Yields Improved by Over 100%
Farmers trained by PAN were found to be achieving yields over 100% greater than untrained farmers in the same area. These yields are being achieved without the use of any harmful pesticides.
SUCCESS
Increase in Price by 77%
The price obtained by participating farmers per kg of cotton has increased by 77% since the start of the project. Farmers in Shelle Melle are working towards organic certification and have already secured a 'Grade A' quality classification.
SUCCESS
Farmers Make More Profit
Trials to compare the net revenue from conventional and organic cotton, sold at the same price per kg, indicated that net revenue for organic cotton was 68-218% higher than conventional cotton.
Supporting Alternatives to Pesticides in Benin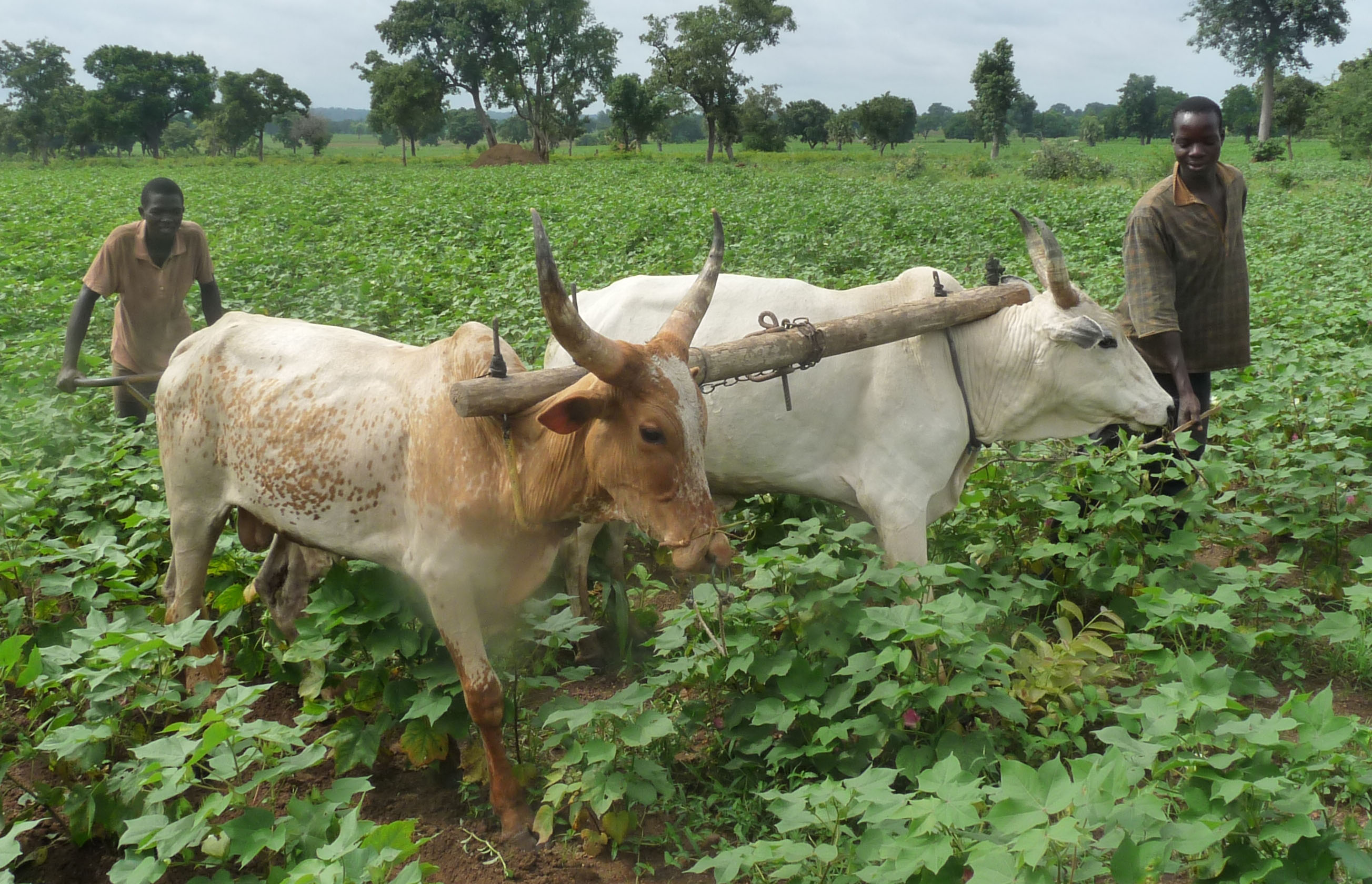 The World Health Organisation (WHO) estimates that 20,000 to 40,000 people die from accidental pesticide poisoning each year, most of them in developing countries. It is safe to assume that many of them are cotton farmers. The full extent of this phenomenon is unknown because it has never been monitored globally. However, when monitoring has been undertaken, the findings have been alarming. A Pesticide Action Network survey documented 65 deaths in only two districts of Benin during the 2001 growing season; 10 were children under 10.
Cotton is often the only "cash crop" subsistence farmers can grow to provide them with the necessary income to buy tools, clothes, school books, medicines, etc. Secondly, the concept of crop rotation is a major principle of organic agriculture. Organic farmers typically grow twice as much food as cotton. This allows them to ensure "food security" (enough food) for their whole community. When farmers grow cotton organically they also grow, as a result, very healthy and nutritive organic food which is not contaminated by pesticides. We call this "food safety", and it is all thanks to organic cotton.
Organic cotton refers to a fibre which has been grown according to the principles and rules of organic agriculture. These rules are very strict and are defined by a law from the European Union and are closely monitored by the organic certification standards. Organic agriculture uses no synthetic pesticides or fertilizers, and no Genetically Modified Organisms (GMO). Organic fertilizers (such as compost) and plant-based pest management products (such as neem or garlic extract) are used. However, organic agriculture is not merely about replacing synthetic inputs with natural ones. The major principle is to restore a natural balance within the farm, with healthy soils, rich in organic matter. In such an environment, the pests are not systematically destroyed by poisons but are kept under control by their predators, just as they are in nature.
Cotton has been cultivated and used to manufacture textiles for thousands of years. We find fibres inside the fruit of the cotton plant. Cotton is indeed a natural fibre, like wool, hemp, flax, silk, or alpaca. However, for the past 50 years or so, it has been grown using ever increasing amounts of chemicals such as synthetic fertilizers and pesticides. Thus, while cotton remains a natural fibre, modern production is often far from "natural", unless it is grown sustainably.
An organic textile is a textile product (fabric, garment) made with organic cotton (or wool, etc) which has been processed and manufactured according to a set of "organic textile standards". Some chemicals remain essential but the most environmentally-friendly chemicals and processes are used. Unlike organic cotton fibre, there are no laws governing organic textiles; the standards are therefore set by private agencies (such as the Global Organic Textile Standards, or GOTS, used by the Soil Association).
PAN UK began working with Integrated Pest Management expert, Robert Mensah, ten years ago to develop a food spray, using cheap and locally available materials, to enhance populations of beneficial insects in smallholder fields in Africa. Working closely with Davo Vodouhe and his team at OBEPAB in Benin, Robert conducted field trials and experiments in farmer's fields to perfect the product to help farmers grow more cotton, more profitably, without the use of expensive and harmful pesticides.