Food for Thought
Children in England are being exposed to a cocktail of pesticide residues in the fresh produce they receive through the Department of Health's School Fruit and Vegetable Scheme (SFVS). These pesticides have documented potential to harm human health, especially the health of young children who are particularly vulnerable to their impacts.
PAN UK has published the report, "Food for Thought", with the intention of better informing parents and schools about the pesticide residues contained in the produce supplied to four to six-year olds in England under the School Fruit and Vegetable Scheme (SFVS).
Whilst we don't in any way wish to alarm parents, or stop children eating the fruit and vegetables provided, we do believe that the scheme should be adopting a precautionary approach. Until we can say with complete certainty that these pesticides are not in any way harmful, we should not be exposing our children to them unnecessarily.

Our Findings
Our analysis of the last 12 years of residue data published by the Expert Committee on Pesticide Residues in Food (PRiF) shows that there are unacceptable levels of pesticides present in the food provided through the SFVS.
Residues of 123 different pesticides were found, some of which are linked to serious health problems such as cancer and disruption of the hormone system.
In many cases, multiple residues were found on the produce. This is another area of serious concern as the scientific community has little understanding about the complex interaction of different chemicals in what is termed the 'cocktail' effect.
We have also found that the levels of residues contained on SFVS produce are higher than those in produce tested under the national residue testing scheme (mainstream produce found on supermarket shelves).
Only around 30% of the produce is supplied from UK growers. This is understandable with bananas, less so with apples. PAN UK would like to see more produce sourced from the UK and, specifically, from organic growers. The additional costs, according to our analysis, are not restrictive – approximately 1p per day per child. The benefits in terms of helping to grow the UK organic sector and protecting our young children from the effects of pesticides are priceless.
What can I do?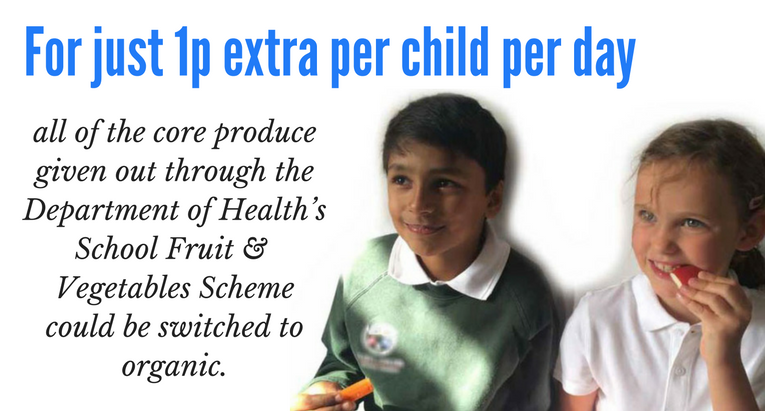 The UK is at a crossroads in terms of its relationship to pesticides.
The EU's pesticide regulations are among the strongest in the world and there is a real danger that, after Brexit, the government will choose to weaken those standards thereby increasing the exposure of the British public, including children, to potentially harmful chemicals.
However, the EU's system is imperfect and Brexit is also an opportunity to move away from the current situation where it is almost impossible to avoid pesticide residues in our food.
After Brexit, the UK government should prioritise human health and reduce the exposure of the general public, and children in particular, to pesticides.
Find out more about our Brexit campaign here.
PAN UK is also urging the Department of Health to end its failure to engage in pesticide issues and take an active role in ensuring our pesticide laws stay strong once we leave the EU. If you're concerned by pesticide residues in the School Fruit and Vegetable Scheme, then email Secretary of State for Health, Jeremy Hunt, and tell him to better protect our children by sourcing the produce from organic farmers.
Frequently Asked Questions
The government says that the level of residues in the produce given out is safe. So what is the problem?
Sam Claydon
2017-08-31T12:07:55+01:00
Adults and children alike are continually exposed to a vast range of chemicals. As an example, even within this relatively limited research study, some samples have tested positive for residues of up to 13 different pesticides. There has been little research into the combinatory or 'cocktail' effects of exposure to pesticides. As a result, we have limited understanding of how long-term exposure to this cocktail of pesticides affects human health. There is an increasing body of evidence showing that chemicals are more toxic when combined than alone.
We are assured by governments and companies that ingesting pesticides residues in food presents no unacceptable risk to us and our children due to the very low levels of any given active substance actually present. This assertion is based on the long-held tenet that "the dose makes the poison", in other words that a substance will have harmful, toxic effects only if present in sufficient quantities. However, research in recent years has suggested that this assumption might not hold true for certain chemicals, such as pesticides, and that we should be concerned about the health impacts of certain chemicals at low doses.