PAN UK recently attended the Basel, Rotterdam and Stockholm (BRS) Conventions Conferences of Parties (Triple COPs), held in Geneva in May 2017. These conventions are international initiatives attempting to establish basic regulatory measures for pesticides at the global level.
Dr Meriel Watts, Senior Science Advisor of PAN Asia Pacific, takes a look at the gains and losses we witnessed in Geneva over these two intense weeks.
Gains at Triple COPs
Gains include concrete measures such as the listing of two pesticides, carbofuran and trichlorfon, under the Rotterdam Convention. Carbofuran is responsible for a huge number of poisonings and wildlife deaths, so this listing is especially important.
Sarojeni Rengam, Executive Director of PAN Asia Pacific (pictured), was presented with a gender hero award for her many years of work raising the profile of women as leaders and as a vulnerable group.
Not only tangible, but there have also been many less tangible gains. For example, there has been much greater talk about human rights with regard to chemicals than we have heard in the past. Pakistan took a stance of protector of children. There has been greater focus on gender issues and the need to ensure that women are involved in decision-making as well as all other aspects of chemical management.
Thanks to the PANAP/APN report on pesticides and agroecology in Palestine, that was available at the PAN information booth, the issue of Israel's facilitation of banned pesticides entering Palestine has been aired, and a solution to the stockpiles of confiscated pesticides might be found.
Losses at Triple COPs
But the losses are quite serious. For example, there has been a loss of democracy with regard to the Rotterdam Convention. Civil society organisations (CSOs) were shut out of discussions on evaluating effectiveness of the Convention, including discussions on the proposal by a number of African countries to amend the Convention to allow voting for the listing of chemicals.
In the past, and again at this Triple COPs, a small number of countries have blocked the listing of paraquat, chrysotile asbestos and a formulation of the insecticide fenthion. Unfortunately the number of countries blocking each increased, even though all parties agreed that the chemicals met the requirements of the Convention.
Blocking is purely to protect trade interest, and this is undermining the integrity of the convention. Two Asian countries, Philippines and Indonesia blocked the listing of a newly proposed carbosulfan, even though, again, they agreed the insecticide met the criteria of the Convention. Discussion of the proposed amendment will continue in an intersessional process, but, again, CSOs are shut out of this discussion.
Quite shocking developments also occurred with the Stockholm Convention. Brominated flame retardant decaBDE was listed, but with exemptions for most known uses, and in some cases for nearly 20 years in a manner that will allow use in aircraft until 2100, even though Boeing clearly stated that the exemption is not needed, and even though the Convention explicitly limits exemptions to 5 years.
In conclusion, although we have had some wins with the listing of carbofuran and trichlorfon, efforts must continue to curb the use of paraquat. In the absence of a listing, those efforts must now turn to national bans for paraquat.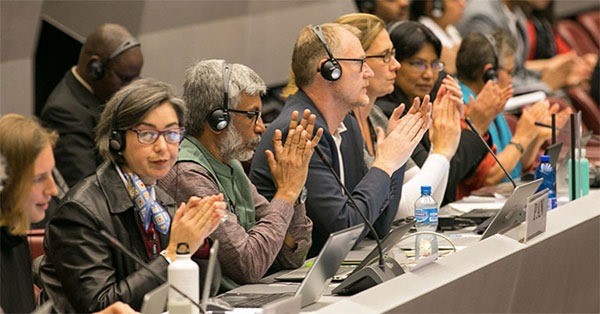 PAN delegates (third from left, Jayakumar, Keith Tyrell, Susan Haffmans, Sarojeni Rengam & seventh from left, Dr.Meriel Watts) applauding during the adoption of the 50th chemical listed under the Rotterdam Convention.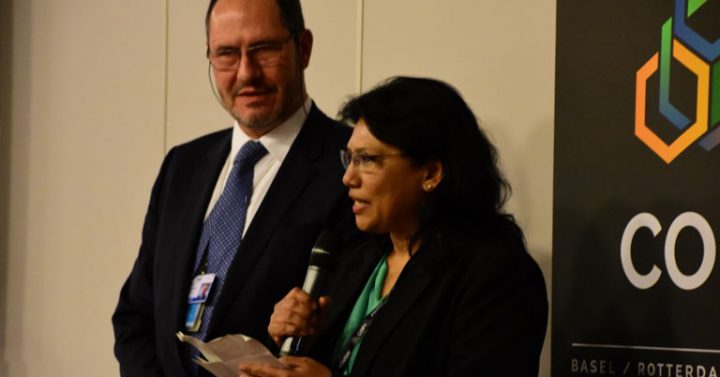 Sarojeni Rengam receiving the 2017 Gender Pioneers for a Future Detoxified Award
Dr Meriel Watts of PANAP during the Triple COPs