By Deborah Lewis, SumOfUs
Every spring, in Germany's former capital city Bonn, Bayer-Monsanto's top executives, shareholders and CEO meet for the chemical giant's annual general meeting (AGM). Ultimately, this is the corporation's most important meeting of the year as it is a chance for shareholders to look back at Bayer-Monsanto's performance and vote on matters that will affect its operation in the year ahead. But this year, it was even more important because there was a special person in attendance who was seeking justice: one of Bayer-Monsanto's most high profile victims, Paul François.
Over a decade ago, Paul François, a French farmer and father of two, was poisoned by Bayer-Monsanto's toxic pesticides. And he has been demanding justice in French courts ever since. Amnesia, vertigo, coma, and seizures – these are just some of Paul's chronic symptoms that he acquired after using the now banned pesticide, Lasso, on his farm. Following in his father's footsteps, Paul is passionate about his work as a cereal farmer. When he developed health problems, doctors recognised that Bayer-Monsanto's Lasso weedkiller had caused them. So, in 2007, Paul bravely decided to take legal action against the chemical giant. Since then, Paul has achieved a landmark victory in the French high court, he switched to all organic farming and started the organisation Phytovictimes to help others whose lives have been poisoned by chemicals.
But of course, Bayer-Monsanto has pushed back all it could and Paul's court victory was sadly overturned in 2015. In his entire time fighting the corporation, Bayer-Monsato's CEO, Werner Bauman, never made an appearance in court. The AGM was Paul's first chance to speak directly to Baumann and tell his story. After waiting many hours inside the AGM, Paul François finally took to the stage to speak his truth – making sure CEO Baumann, Bayer-Monsanto's board and all the shareholders heard the devastation their pesticides can cause. And the shareholders listened!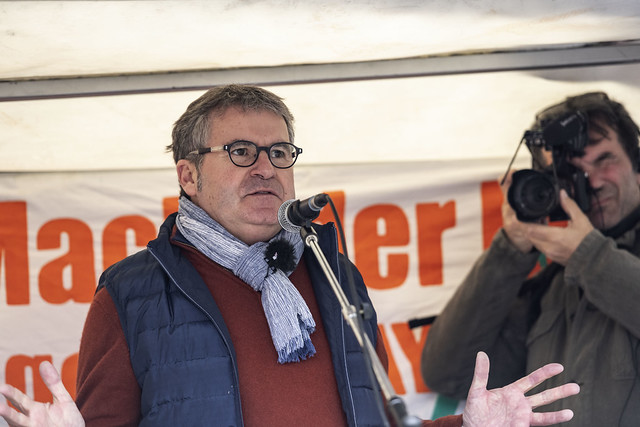 Late in the evening, as the meeting finally came to an end, the shareholders were asked to submit their votes. 55.5% of them cast a no-confidence vote against CEO Baumann. No incumbent CEO at any company listed in Germany's blue-chip index DAX has previously failed this type of vote. Many of the shareholders cited Baumann's inability to understand the importance of public opinion
on glyphosate and the importance of the company acting in the interest of planet and people as a reason for the no-confidence vote.
This was a sensational win for Paul and all the people out there fighting against Bayer-Monsanto's toxic pesticides, and against the disastrous mega-merger. All of this was made possible because of SumOfUs members who came together with generous donations to fly Paul in to make sure he was in attendance at this important meeting. SumOfUs is a community of 15.2 million people from around the world committed to curbing the growing power of corporations. We leverage our power as consumers, workers and investors to make sure the biggest companies in the world respect human rights, democracy and the environment. SumOfUs members understand the importance of fighting a Goliath corporation like Bayer-Monsanto and making sure Paul could have a platform to share his story, not just for him but to represent all of the countless others suffering at the hands of these toxic pesticides.
PAN UK and SumOfUs regularly work together to fight against the power of the pesticide industry and push for a healthier and more sustainable future. If you are interested in joining the SumOfUs movement to hold corporations like Bayer-Monsanto accountable go to: www.sumofus.org.
And you can learn more about Paul François and his organisation Phyto-victimes here: www.phyto-victimes.fr