By Paul Lievens, Communications & Policy Officer, Banana Link
"Twenty or thirty years ago, people who are growing organic – they are crazy people! To grow organic is to think different. About the workers, about the social aspects also. To work with the communities. Also, to work with the customer themself."
Johan Glo, Director of Operations, Golden Exotics Limited, Ghana
Bananas are grown in more than 150 countries throughout the world's tropical regions. Around 105 million tonnes of the fruit is produced each year, making up a significant portion of export revenue for producer countries and creating an income for millions of people. In Ecuador, for example, where bananas account for approximately 10% of the country's exports, banana production provides a direct or indirect livelihood for around two million people.
Only 6% of global banana export production is organic, but due to growing consumer demand for organic produce in export markets like Europe and North America, this is changing. In addition, the industry has begun to recognise that the current intensive, chemically-reliant, monoculture production model is not sustainable and the development of alternative production models is a pressing necessity.
There is limited shelf life for a production model that has negative impacts on human health and the environment through increased reliance on agrochemicals. Especially as it is making the predominant export variety, the Cavendish, increasingly vulnerable to disease. This is demonstrated by the recent spread of Fusarium Tropical Race 4 (TR4), sometimes referred to as Panama Disease, which is threatening what the popular media have dubbed "bananageddon".
Banana Link
is in the process of producing and distributing a set of case studies within the banana industry which document viable alternative production methods. The first, a video published in August, looks at the successful development of organic banana production by Compagnie Fruitière, filmed primarily at its subsidiary Golden Exotics Limited in Ghana (500 ha), and to a lesser extent at SCB in Côte d'Ivoire (100 ha) and Finca la Valentina in Ecuador (150 ha).
The video isn't intended to rehearse the arguments in favour of organic production as the reduction of negative impacts on human health and the environment that results from switching from chemically reliant to organic production should be clear. The focus of the film is rather on discovering whether organic production is viable, sustainable and profitable, and if so, how it is achieved.
We look at the technical challenges of organic production, including management of pests, diseases and water resources, as well as the impact of climate change. In Ghana, the dry, and drying, climate is admittedly more favourable to organic production. For example, the leaf fungus Black Sigatoka thrives better in more humid conditions, while nematode pests aren't present in Ghana.
By utilising organic fertilisers, biological and mechanical control of pests, and cover crops to maintain soil fertility and retain water, the French Fairtrade producer has been able to successfully develop organic production over the last four years. The company is also now hopeful of attracting many more women from the local community to work on the plantation given that women are particularly vulnerability to the harmful effects of agrochemicals.
The bottom line is that organic production is, in this case, more profitable than conventional chemically-reliant production. While there are increased labour costs involved, the higher retail price for organic bananas sold in Europe means that Compagnie Fruitière is better able to minimise these impacts. The company's comparative figures for labour costs, fertilisation, yields and margins between organic and non-organic production are discussed in the video, which you can watch at: https://vimeo.com/336377622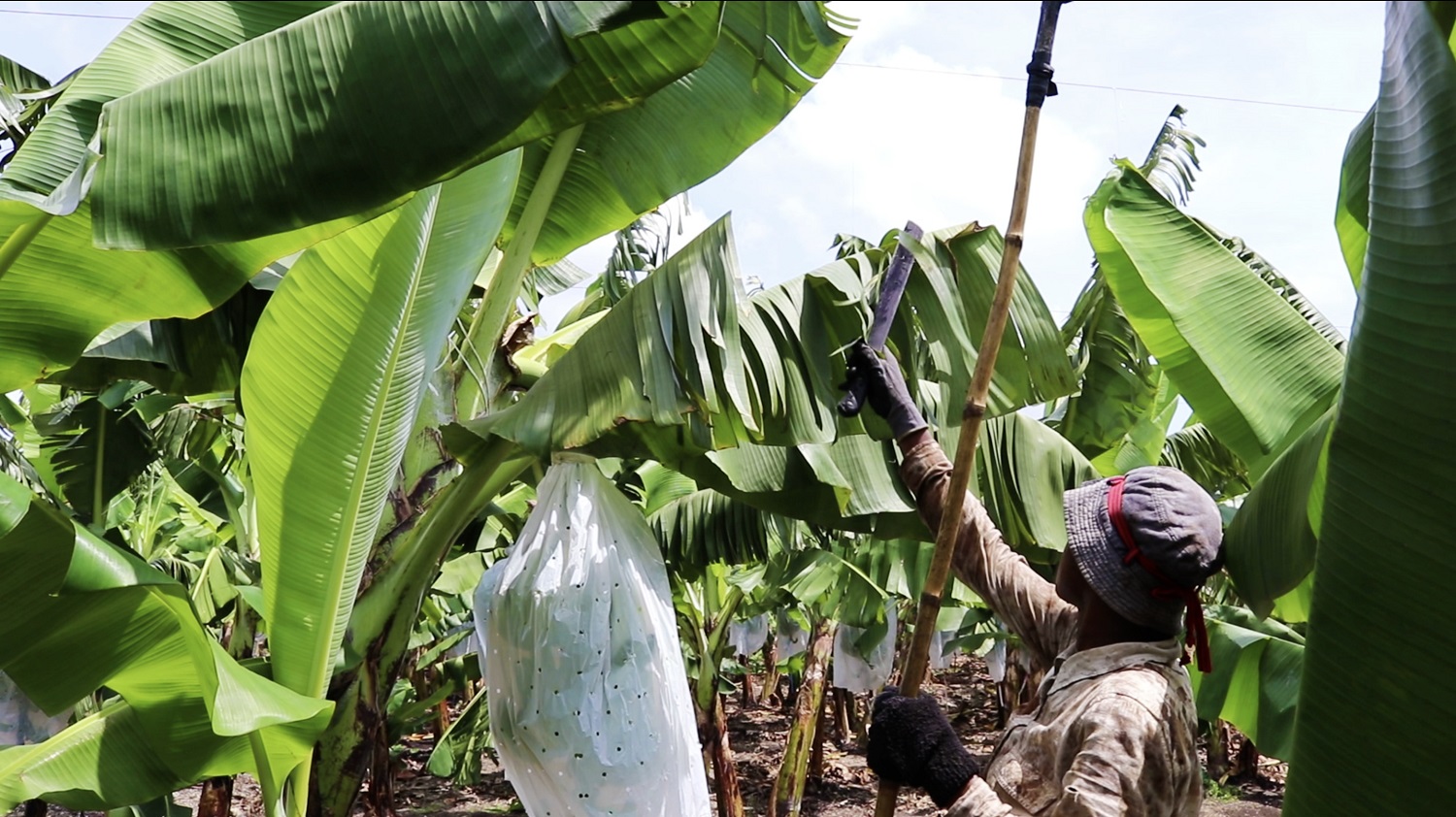 Banana Link is a not-for-profit organisation based in Norwich, which works for fair and equitable production and trade in bananas and pineapples based on environmental, social and economic sustainability. Find out more: www.bananalink.org.uk