by Josie Cohen, Head of Policy and Campaigns (1st August 2018)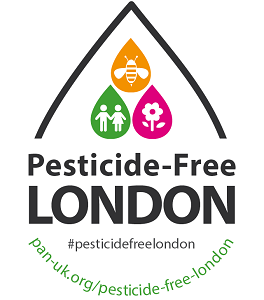 On a scorching hot Friday in June, forty decision-makers responsible for managing public spaces around London gathered in Hammersmith for the first ever Pesticide-Free London workshop. Those in attendance included elected councillors and council officers from two-thirds of London boroughs, plus a range of other organisations who also manage large swathes of land in the capital. The topic of the day? How to end the use of toxic pesticides in London's parks, playgrounds and other urban spaces.
The event was part of PAN UK's Pesticide-Free Towns campaign which has succeeded in getting councils and other land managers across the UK to switch to using non-chemical alternatives instead of toxic pesticides.
Pesticides in towns and cities
At last count 38 different pesticides were being used in UK towns and cities, the vast majority to control weeds. They are sprayed in parks, playgrounds and other green spaces, road verges, pavements and around shopping centres and schools.
The chemicals used have been linked to an array of health problems including cancer, diabetes and neurological disorders such as Parkinson's. Vulnerable groups such as children, pregnant women and old people are most affected. Pesticides are also having devastating effects on London's natural environment, destroying many of the areas where wildlife such as hedgehogs and bees forage for food and contaminating the natural resources they depend upon.
Non-chemical alternatives
But urban pesticide use is unnecessary and there are lots of non-chemical alternatives available. At the workshop, we heard from three companies that make a variety of technologies (from hot foam to electricity to mesh) designed to deal with weeds without resorting to chemicals.
In fact, hundreds of towns and cities around the world have already banned pesticides. In 2016, Hammersmith & Fulham (H&F) became the first London borough to go pesticide-free and H&F Councillor Wesley Harcourt spoke at the event about all they've achieved.  Leonie Cooper, Deputy Chair of the Environment Committee of the Greater London Authority (GLA), introduced the Mayor of London's new Environment Strategy which commits the GLA group to reducing its own pesticide use. With H&F proving that pesticide-free is possible and the GLA leading the way, it is looking highly likely that we can convince other London boroughs to follow suit.
London going pesticide-free looks even more likely when you look at PAN UK's recent council election campaign which resulted in candidates in thirty of London's thirty-two boroughs taking the 'Pesticide-Free London pledge' to severely restrict, and ideally ban, pesticide use.
Pesticide-Free Towns Campaign
The Pesticide-Free Towns campaign is part of a global movement driven by rising levels of public concern over the impacts of pesticides. As more non-chemical alternatives become available, increasing numbers of towns and cities are going pesticide-free. In France, all public spaces throughout the country have been managed without pesticides since 2017. Meanwhile, the UK is lagging behind but the public is no less concerned. Recent polling revealed that 68% of UK citizens want their local schools, parks, playgrounds and other open spaces to be pesticide-free.
London Workshop
The workshop in June was another step forward in the journey to make London the first UK city to go pesticide-free. And if London shows that it can be done, then we should be able to convince other major cities to follow suit until all of the UK's public spaces are free from toxic chemicals.
PAN UK is on hand to provide councils and other land managers with bespoke advice on how to stop using toxic pesticides and adopt truly sustainable and healthy non-chemical alternatives. But we can't do it alone. Councils need to hear from local residents that this issue matters to them. If you are concerned about pesticide use in your local area, contact us at pestcidefree@pan-uk.org and we can link you up with Pesticide-Free Towns activists in your area or help you start a local campaign.