As part of the Big Bang Science Fair, two school girls have examined their food for pesticide residues and are teaching others about their findings.
By Anjali and Molly, Y9, Watford Grammar School for Girls
Are there hazardous pesticides in the food we eat every day? What are their effects?
These are the questions we strove to answer for our Big Bang CREST science project.
In short – yes. There are pesticides in the foods we consume, and their effects can be damaging for us and the environment. Here's how we came to this conclusion…
Our research
First, we sent out a survey asking students which fruit and vegetable they ate the most and where they shopped.
Our results: 55% of people shopped at Tesco Watford, 28% ate bananas the most, and 31% potatoes. We tested apples too, as well as grapes sold at our own school canteen.
Once we decided what to test and where to buy it from, we had to find a way to detect pesticide residues. We sourced a company that was willing to sell us a pesticide detection kit and held a cake sale to raise money.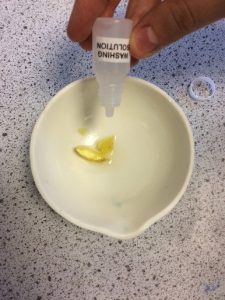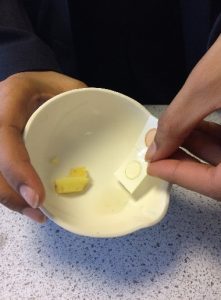 Our kit was made up of detection cards and a substance labelled 'washing solution' – distilled water. Using one gram of the sample and 2 ml distilled water, we pressed one side of the card into the mixture. After letting it stand and pressing it together for ten and three minutes respectively, the discs reacted and the lower changed colour. We used our control tests to determine how high or low the concentration of pesticides was.
Our Findings
Our results were as follows:
Apples – High Levels of Pesticides
Potatoes – Very High Levels of Pesticides
Canteen Grapes – High Levels of Pesticides
Bananas – Quite High Levels of Pesticide (this could be because we tested it without its skin, which is very thick).
Roundup Pesticide (Control) – Very High Levels of Pesticides
Distilled Water (Control) – Low Levels of Pesticides
Our test detected organophosphates, carbamates, and the enzyme cholinesterase.
Next, we wanted to find out how these pesticides could affect us and the environment. For this, we carried out extensive research and produced a useful (slightly creepy) human body. Some ailments we found were: Parkinson's disease, ADHD, leukemia, and even death. All these illnesses can be caused by chronic (long-term) ingestion of pesticides, or when you consume a lot at once.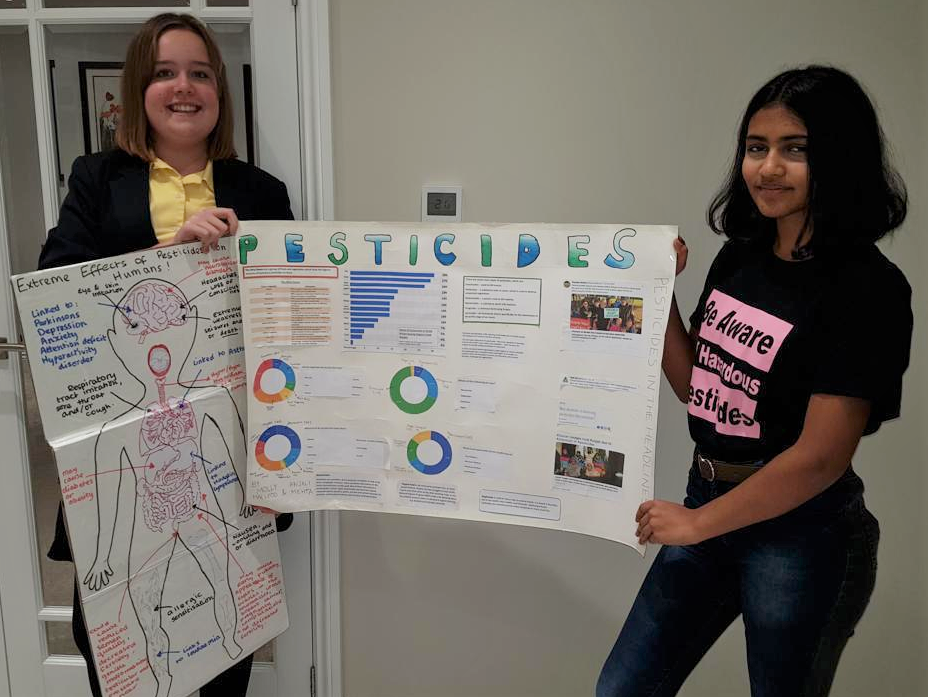 Environmentally, a large amount of pesticides reaches multiple destinations; not just the fields at which they are targeted. They easily contaminate the air, water and soil and have been linked to bee declines and more. Finally, we looked into ways of getting rid of pesticides on food: we found a few methods of washing off some of the pesticides (washing in a salt and water solution, soaking in vinegar and water), but all of them alter the taste of the food and don't get rid of all the pesticides.
What next?
We know we can't expect farmers to immediately stop using pesticides, but we think that biopesticides – pesticides derived from natural ingredients – are the next best thing. We started a petition to remove VAT from biopesticides, which would encourage farmers to use them. If you'd like to support our petition – it would mean the world to us – follow this link.
Our project is not finished. We're still trying to raise awareness using Twitter and Instagram. We are working on a model of the environment to present pesticide effects on our world and conducting further experimentation.
We are very excited to present our project to judges at the national round of the Big Bang Science Fair, an annual fair held at the NEC Centre in Birmingham, with as many as 80 000 attendees.