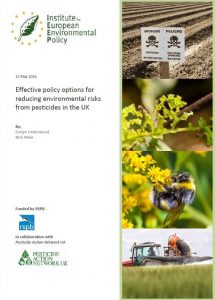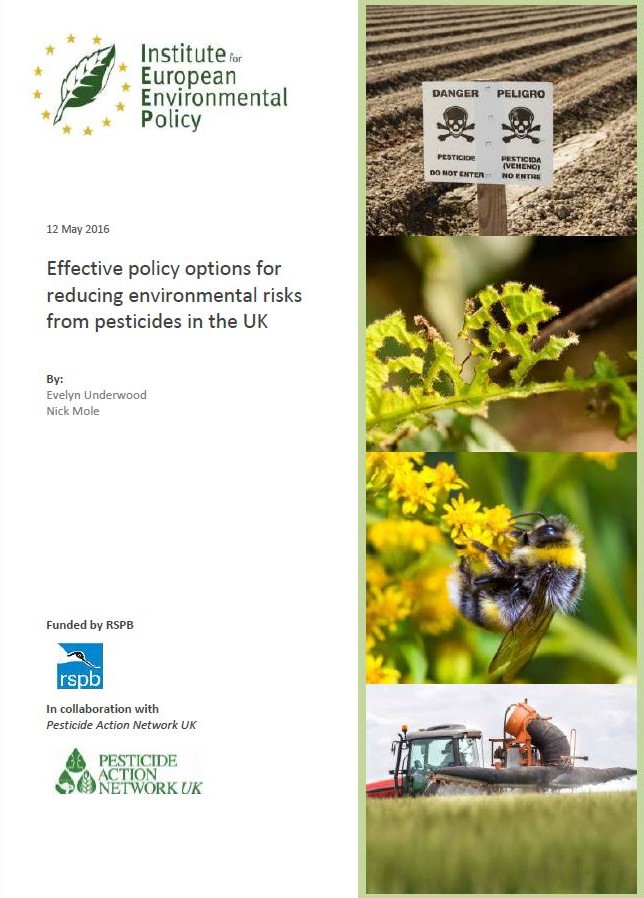 PAN UK and IEEP have published a new report examining the effectiveness of the UK's approach to managing pesticide risks and reviewing innovative policy measures used by other countries. The report finds that, between 2000 and 2013, the overall crop area being treated with herbicides, insecticides and fungicides and the number of treatments applied to most major crops in the UK has risen significantly (an increase from 59.1 million ha to 78.2 million ha). Regulatory attention has focused on the selection, handling and distribution of pesticides in the UK and little has been done to reduce reliance on pesticides in the agricultural sector, or to support farmers in a move away from pesticide use altogether.
With increasing scientific evidence that pesticides are contributing to declines in farmland bird populations, bees and pollinators, terrestrial and aquatic invertebrates, amphibians, and freshwater biodiversity, as well as drinking water and surface water contamination, the report explores practices that have proven successful in reducing pesticide use in other European countries.
For example, the Italian regions of Veneto and Friuli are using crop risk insurance to cover pest and disease damage to maize crops. There is just a 5% risk that pests can cause significant crop damage, and with the insurance, farmers can avoid using pesticide-treated seeds and establish integrated pest management techniques. Meanwhile, France has passed a law to completely phase out the use of pesticides for non-professional use, and both France and Belgium are prohibiting pesticide use in green spaces, forests and public spaces. Denmark has announced that it will consider prohibiting pesticides found to exceed thresholds in surface or groundwater, and is providing substantial funding for enhanced actions to protect groundwater, primarily financed by the revenues from a new tax on pesticides.
By leaving the EU, the UK will no longer need to comply with EU legislation on pesticides. As the UK's compliance with water quality standards and implementation or support of integrated pest management is already weak, PAN UK is concerned that future UK governments will fail to meet environmental pesticide standards and objectives in the absence of pressure from the European Commission and European Court of Justice.